Little apple upside-down cakes! With caramel sauce! How much better could these cakes be? Be still my beating heart!
You know how much I love an upside-down cake, so I was delighted to come across this recipe for gorgeous Individual Apple Upside-down Cakes served with a Salted Butter Caramel Sauce (or Caramel au Beurre Salé if you're being fancy).
Super easy and quick to make, these little servings of apple cake goodness are delicious all by themselves, with the apple making a lovely sweet topping. Or go the full nine yards and smother them in caramel sauce for a heavenly treat. Ice-cream and/or cream won't hurt either.
This lovely apple upside-down cake recipe is baked with love by the very talented Life's A Feast.
If you're a fan of apple cakes like I am, you'll love this delicious Norwegian Apple Cake recipe.

Apple Upside-down Cake Recipe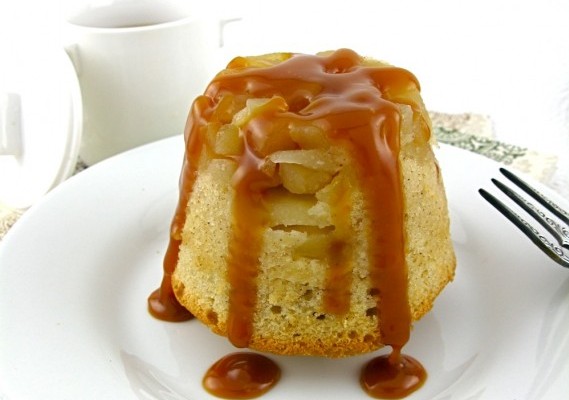 Ingredients
For the Apple Upside Down Cakes
¼ cup (60 ml) water
2 – 3 Tbs granulated brown sugar
1 large apple, peeled, cored and diced
3 Tbs (45 g) unsalted butter, softened to room temperature
⅓ cup (70 g) granulated white sugar
1 large egg
¾ cup (105 g) self-rising flour
¼ tsp ground cinnamon
¼ cup (60 ml) milk
For the Salted Butter Caramel Sauce (Caramel au Beurre Salé):
1 cup (200 g) granulated white sugar
3 ½ Tbs (50 g) salted butter
1 cup (250 ml) heavy cream

Happy baking!