A simple Raspberry Buttermilk Cake to feed your soul.
A heartwarming cake that is soft, tender and moist thanks to the buttermilk and butter.
The cake is not too sweet. The baked berries create little pockets of jammy fresh raspberry deliciousness.
Fresh raspberries are perfect but frozen berries work beautifully too. To prevent the berries sinking to the bottom of the cake, lightly dust the berries in flour before adding them to the batter. The batter should have a relatively thick consistency which acts to suspend the berries during baking.
This recipe is versatile too and suits all sorts of berries and fruits. Use whatever fruit you have on hand or use this recipe to showcase seasonal produce.
Best eaten soon after baking, this is an easy buttermilk cake recipe that you will use many times.
The very talented Seasons and Suppers shares this lovely Raspberry Buttermilk Cake.

Raspberry Buttermilk Cake Recipe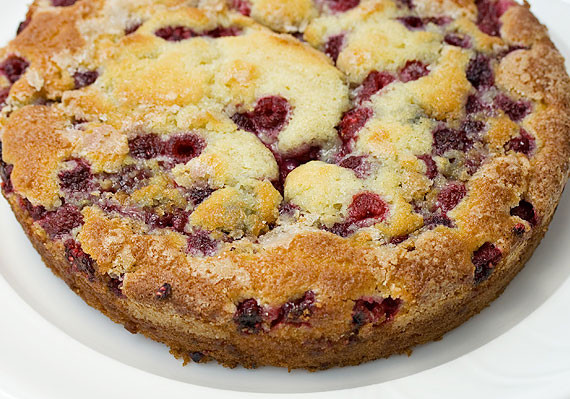 Ingredients
1 cup all-purpose flour
½ tsp. baking powder
½ tsp. baking soda
¼ tsp. salt
¼ cup unsalted butter, softened
⅔ cup granulated white sugar
1 tsp. pure vanilla extract
1 large egg
½ cup buttermilk, well shaken
1 – 1½ cups fresh raspberries
1½ tablespoons white sugar, for sprinkling
Icing (Confectioner's) sugar, for dusting