A delightful Lavender Cake Recipe. Also known as Lavender Bread, this treat is simply perfect for afternoon tea.

An important note with this recipe – and indeed any time that you are cooking with lavender, be sure you have edible lavender, not the lavender from sachets you scent drawers with.
You're best buying edible lavender from a specialty grocer or high-end supermarket.
You could use fresh lavender from the garden, but there are 39 species of lavender and some varieties can be on the bitter side. You'll need to experiment and, until you're sure, I'd stick with store bought specialty culinary lavender like this one: Culinary French Lavender
.
One thing about this Lavender Cake recipe that I adore is the lemon glaze. The trick is to pour the lemon sugar syrup over the just baked cake. The cake absorbs the syrup and you end up with this delicate, crisp, shell over the cake.
I'll put the kettle on shall I?
The talented Cookbook Archaeology shares this timeless Lavender Cake recipe.
For other afternoon tea delights, this Blueberry Tea Cake is just lovely. Such a lot of flavor for such a simple looking cake.

Lavender Cake Recipe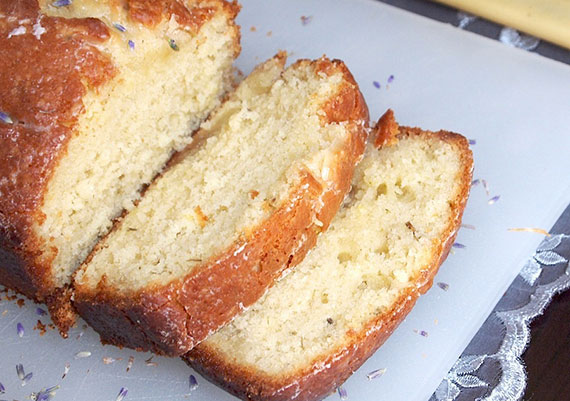 Ingredients
For the Lavender Cake
1½ c. all-purpose flour
1½ tsp. baking powder
¼ tsp. salt
2 tsp. dried culinary lavender
9 tbsp. unsalted butter, room temperature
1 c. granulated sugar
2 large eggs
¼ c. milk
2 tbsp. lemon juice
Grated zest of 1 lemon
For the glaze:
1 c. confectioner's sugar
2 tbsp. fresh lemon juice