This Raspberry Angel Cake is sure to impress. This is a cake that certainly tastes as good as it looks.
Delicate, feathery and light as air, and it should be with a massive 12 egg whites. But that's angel food cake for you.
Given all of those egg whites, this is more of a special occasion cake for me. But what a delight when that special occasion does come around.
Adding the raspberry creme fraiche swirl is simply inspired. Note, the swirl effect is only on the top of the cake – it doesn't go all the way through. I'm also keen to try a blueberry version. I think the color would be utterly gorgeous. And blackberry too perhaps…
The delightful The Galley Gourmet brings you this Raspberry-Swirl Angel Cake with Creme Fraiche.

Raspberry Angel Food Cake Recipe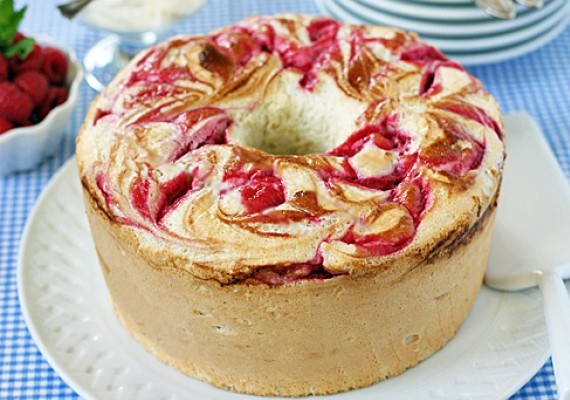 Ingredients
For the Raspberry Purée
Fresh raspberries
Granulated sugar
Freshly squeezed lemon juice
For the Raspberry Angel Food Cake:
Unbleached all-purpose flour
Powdered sugar
12 extra large egg whites
Kosher salt
Cream of tartar
Granulated sugar
Vanilla extract
For the Topping:
Crème fraîche
Granulated sugar
Fresh raspberries