A light and delicate cake that's simply perfect for a warm summer afternoon – glass of champagne optional (although highly recommended).
Soft layers of vanilla sponge with a cream and quark lemony filling that's studded with fresh raspberries. Bliss.
The layers of sponge cake are lovely and airy thanks to the method which incorporates beaten egg whites into the cake batter. There's also no butter here to weigh things down.
What's "quark"? I hear you ask.
Quark is a type of fresh cheese that's very popular in Europe. It's somewhere between a light cream cheese, creme fraiche, mascarpone and yogurt. You get the idea – basically it's delicious.
While you might have to search a little, you can usually find quark in specialty grocers (including Whole Foods) or cheese shops. A bowl of quark and fresh fruit for breakfast is one of life's simple pleasures.
This recipe is from Dirty Kitchen Secrets.
If you're looking for more summer cake recipes may I suggest this Cherry, Strawberry Red Currant Cake recipe, this Passion Fruit Cheesecake, or how about an exotic and tropical Pina Colada Cake.

Quark Cake Recipe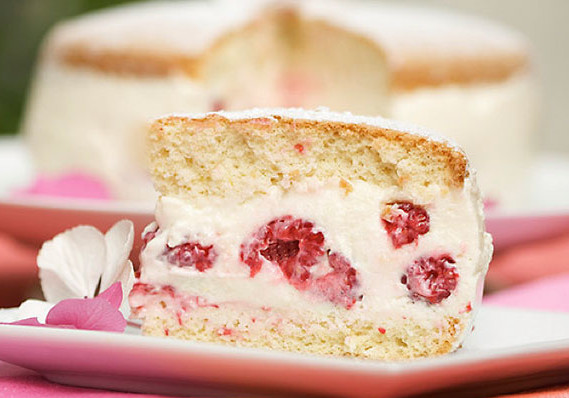 Ingredients
For the cake:
100g caster sugar
1 tablespoon water
1 whole egg
2 eggs, separated
100g self-raising flour
½ a lemon zest
a teaspoon of cold butter
For the quark filling:
2 eggs, separated
100ml double cream
100g caster sugar
500g quark cheese
170g Raspberries (or berry of choice)
2 sachet of powdered gelatin or 8 leaves of gelatin
1 lemon, juiced
Instructions
For the full recipe go here.