A lovely New York style cheesecake that's piled high with beautiful fresh glazed berries. NY cheesecake is a classic for good reason and this recipe is sure to please even the most die-hard cheesecake fans (and New Yorkers as well).

The lemon shortbread crust is inspired and perfectly compliments the rich, silky cheesecake filling. But if you're short on time, you can always use a more traditional biscuit crust base that requires less baking.
And while the inhabitants of the Big Apple may have perfected NY style cheesecake, it wasn't invented there. It may surprise you to learn that cheesecake actually dates back over 4,000 years to ancient Greece.
According to www.cheesecake.com (which sets out the history of this beloved dessert), in ancient Greece, cheesecake was considered to be a good source of energy, and there is evidence that it was served to athletes during the first Olympic games in 776 B.C.
Greek brides and grooms were also known to use cheesecake as a wedding cake. Their cheesecake recipe was somewhat simpler than ours, and used the ingredients of flour, wheat, honey and cheese formed into a cake and baked. I wonder what they'd think of the fancy cheesecakes of today.
The very talented Everyday Art shares this great NY Cheesecake Recipe.
The Answer Is Cake loves, loves, loves cheesecake recipes. Have you seen this decadent white chocolate caramel cheesecake? Be still my beating heart…

NY Cheesecake Recipe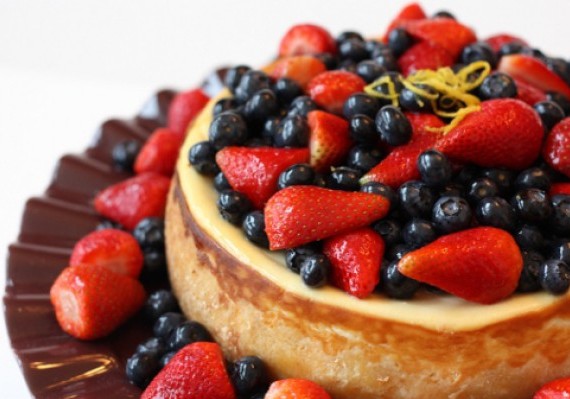 Ingredients
For the Crust:
1 c. flour
¼ c. sugar
1 tsp. lemon zest
½ c. butter, softened
1 slightly-beaten egg yolk
¼ tsp. vanilla
For the Filling:
5 (8-ounce) packages cream cheese, softened
⅛ tsp. salt
1 ¼ c. granulated sugar
⅓ c. sour cream
2 large egg yolks
6 eggs
2 tsp. vanilla
3 tsp. lemon juice
1 tsp. lemon zest
For the Glazed Berry Topping:
3 lbs. fresh berries (strawberries, blueberries, blackberries, raspberries, any one or combination you like)
½ c. sugar
2 Tbsp. cornstarch
1 c. fruit juice
2 Tbsp. corn syrup

Happy baking!