Make the best of summer plums with an easy Plum Clafoutis. Or do as I did, and make the most of a few left-over sour plums with this easy and delicious recipe.

I've written elsewhere of my love of the humble clafoutis – apricot clafoutis in that instance. But the plum version is worth a mention also.

The ultimate in versatility, you can use pretty much any fruit you like be it fresh, frozen or canned. Fleshy fruits work particularly well, I've already mentioned plum and apricot, but peach, nectarine, apple, pear, any sort of berry and let's not forget the original clafoutis, cherry clafoutis. One day I intend to try this recipe with blood plums. They're always spectacular in baked goods – their sweetness and color just can't be beaten.
Baking doesn't get much easier than a fruit clafoutis.
Originally a French treat, clafoutis is a cross between a flan and a pancake. Essentially an eggy, pancake-like batter that is poured over the fruit which bakes to a custardy consistency. Clafoutis is perfect for dessert, breakfast or brunch.
This Plum Clafoutis came about thanks to some particularly tart red plums I bought. Too tart to eat really – even for me and I quite like a mouth-puckering sourness.
But I wasn't willing to give up on those plum. While perhaps too sour to eat by themselves, baking gives tart fruit a new lease on life. The heat activates and enhances the natural sugars and transforms the fruit into sweet, juicy, jammy pockets of flavor.
For this recipe, as the plums were so tart, instead of halving the fruit as I usually do, I sliced the plums into thinner segments. This allows more of the batter to surround each slice and also for the heat to be able to fully penetrate and activate the sugars thereby neutralizing their sourness.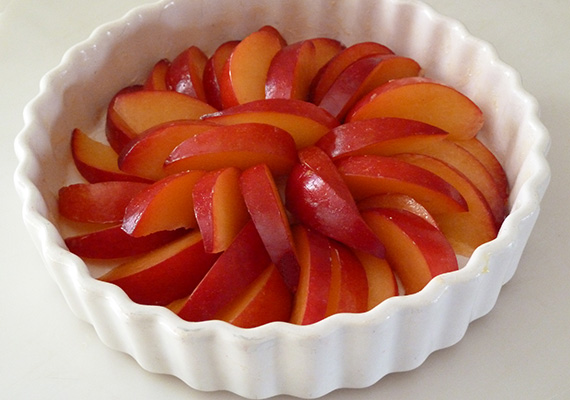 It worked a charm. The plums were still tangy, but much more mellow in flavor.
Clafoutis is a stand-by dessert in our house. You can pop it into the oven after you've finished making dinner, and your clafoutis will be baked by the time you're ready for dessert (25 to 30 minutes). It's also on the healthier side of the sorts of treats I like to bake so that's a win too.
One thing to note, when you take your clafoutis out of the oven it will be all puffed up and golden. Don't be too disappointed when it starts to deflate. It's just what it does. Keep this in mind if you are serving it for others – take it straight to the table from the oven when it looks its best.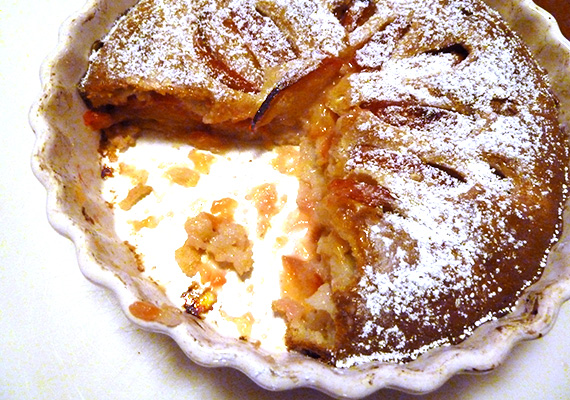 If you wanted to fancy up this Plum Clafoutis you could add a splash of liqueur – brandy or cognac would be perfect.
Serve your clafoutis with icing sugar as above, and serve with ice-cream or cream if you like. Or devour it plain, as I usually do.

Plum Clafoutis Recipe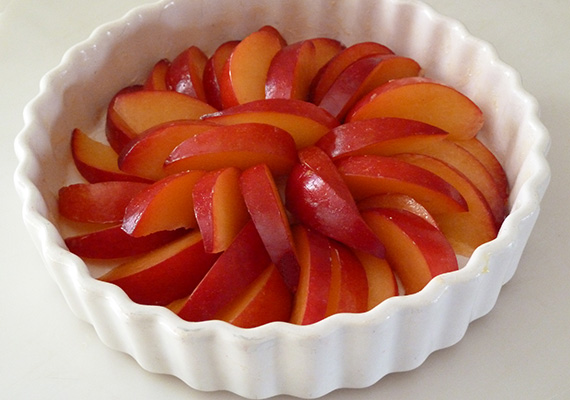 Ingredients
6 fresh plums, stoned and sliced (or halved)
½ cup self-raising flour
¼ teaspoon salt
2 egg, lightly beaten
4 tablespoons caster sugar
½ teaspoon cinnamon
½ teaspoon vanilla
½ cup skim milk
Instructions
Step 1 – Preheat your oven to 200ºC. Grease a shallow oven proof dish or baking pan.
Step 2 – Slice and arrange plums in oven-proof dish or baking pan.
Step 3 – Combine flour, salt, sugar, eggs, spice, vanilla and skim milk in food processor (or blender). Process until the mixture is a smooth, thin batter.
Step 4 – Pour batter over plums.
Step 5 – Bake for approx 30 minutes, until golden brown and puffy. Dust with icing sugar and slice and serve with cream, ice-cream or custard if desired.