A splendid Upside-down Plum Cake recipe made here with fresh Italian plums. Super-easy and incredibly delicious.

Plums must be one of the most satisfying fruits to bake with.
The juicy fresh plums transform into a layer of intensely colored and flavored, sticky, luscious goodness.
In this great recipe from Bakingdom, the Italian plums are first sauteed in butter, jam and brown sugar which creates a gorgeous sticky sweet topping when baked.
Underneath this plum extravaganza, is a simple vanilla cake, which allows the fruit to take center stage.
Top with ice-cream, cream and/or custard and you're well on your way to dessert heaven.
This Upside-down Plum Cake is brought to you by the always delicious Darla at Bakingdom.
Are you a fan of upside-down cakes like I am? Pop over to our Upside-down Cake Recipe Collection and prepare to be inspired.

Upside-down Plum Cake Recipe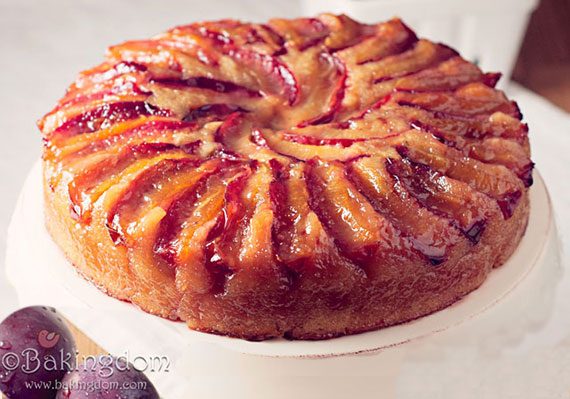 Ingredients
For the Plum Topping:
3 tablespoons (43 grams) unsalted butter
½ cups (128 grams) brown suger, packed
4 teaspoons apricot jam (or any jam or preserves desired)
6 Italian plums (or any fruit that you choose), pitted and sliced
For the cake:
1½ cups (191 grams) all-purpose flour
1 teaspoon baking powder
¼ teaspoon salt
¾ cup (188 ml) milk
1 teaspoon (5 ml) vanilla extract
½ cup (1 stick or 113 grams) unsalted butter, at room temperature
⅔ cup (134 grams) sugar
2 large eggs