Don't be fooled by the pale brown outer shell of this meringue cake. Inside is dark, rich, pure chocolate heaven.
Team that with fresh juicy blackberries and cream, and the world stands still.
As always, make sure you use a really good quality cocoa powder for this recipe. The chocolate flavour relies on it. And while meringue isn't the easiest thing in the world to make, it's certainly not the most difficult. Stick to the recipe here and you'll be fine.
Hand me a spoon!
This gorgeous Chocolate Meringue Cake with Blackberries is from the very talented Pratos e Travessas. You need to scroll down for the recipe in English.

Chocolate Meringue Cake with Blackberries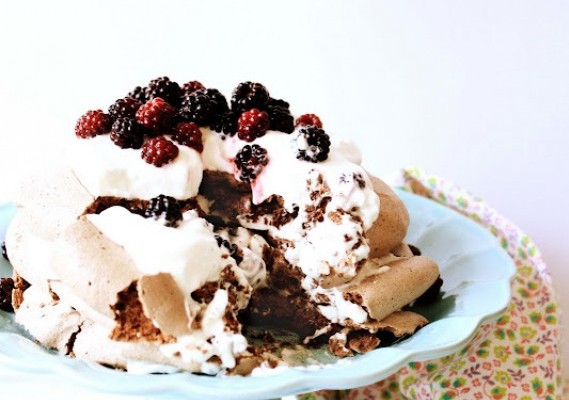 Ingredients
8 egg whites
500 g caster sugar
60 g cocoa powder
400 ml cream
1 tbs caster sugar
Blackberries