No question about it – everyone should have a clafoutis recipe to call on.

Clafoutis (pronounced "claf-ooti") is a French cake-like flan that's as good for dessert as it is for breakfast – and you whip it up in minutes. So easy and so delicious.
I would bet that you have all the ingredients you need for a clafoutis in your pantry right now.
Basically, you need some sort of fruit – berries, apples pears or stone fruit are great. Your fruit can be fresh, tinned or frozen.
Then a simple, thin batter similar to a pancake mix (flour, milk, sugar and eggs), is poured over the fruit and baked for about 30 minutes.
Seriously – it's that easy!
I made this version with half a kilo of fresh apricots. The apricots bake to a lovely, sweet tartness which contrasts with the soft, vanilla custard-like batter. I've made countless clafoutis with tinned apricots which also work brilliantly (and are so convenient for a last minute dessert). I'm yet to make a cherry version – which is the original apparently. One day…
There are many variations of clafoutis recipes around – and it depends how fancy you want your clafoutis to be. You can add liqueurs like brandy, Cognac or Armagnac, use cream instead of milk and I've seen other recipes with browned butter.
But my clafoutis recipe is about as basic as it gets – and this is one recipe where I do use low fat milk, because you simply can't tell the difference and I'm happy to save a few calories here and there.
I also use self-raising flour as I like a bit of puff to my clafoutis. Which reminds me, your flan will come out of the oven all puffy and high but it will sink down – and pretty quickly too. If you're trying to impress, make sure you present the clafoutis as soon as it is out of the oven when it looks its best.
You may just find yourself pulling out this clafoutis recipe more often than you expect – it's a little bit addictive.

Apricot Clafoutis Recipe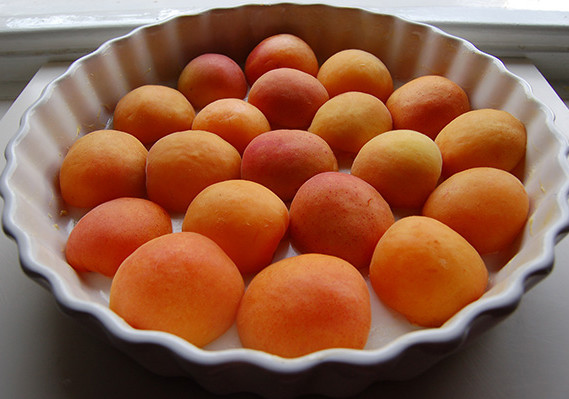 Ingredients
500g fresh apricots, halved and stoned
½ cup self-raising flour
¼ teaspoon salt
2 egg, lightly beaten
4 tablespoons caster sugar
½ teaspoon all spice (or cinnamon)
½ teaspoon vanilla
½ cup skim milk
Instructions
Step 1 - Preheat your oven to 200ºC. Grease a shallow oven proof dish.
Step 2 - Arrange apricots halves in oven dish.
Step 3 - Combine flour, salt, sugar, eggs, spice, vanilla and skim milk in food processor (or blender). Process until the mixture is a smooth, thin batter.
Step 4 - Pour batter over apricot halves.
Step 5 - Bake for approx 30 minutes, until golden brown and puffy. Slice and serve with cream, ice-cream or custard if desired.