Discovering Carrot Cake Cheesecake was a Eureka! moment for me.

I mean Carrot Cake Cheesecake! A genius combination of cheesecake and carrot cake, two of the world's favorite cakes, into one splendid dessert. Pass me a spoon.
Carrot Cake alone is delicious. Cheesecake alone is wonderful. Put these two cakes together and your world may move.
But really – why didn't I think of it before? It's so obvious. How many times have I ohh-ed and ahh-ed over carrot cake with a thick cream cheese frosting. This is just the next delicious step.
Thankfully Kyra and her daughter Jocelyn over at Caramel Potatoes are one step ahead of me.
In their Carrot Cake Cheesecake recipe a good thick layer of carrot cake (with carrot, pineapple, coconut, cinnamon and walnuts) is topped with another thick layer of smooth, rich and creamy cheesecake. Add in a luscious frosting made with even more cream cheese sweetened with a splash of pineapple juice, and you'll be wondering where this cake has been all your life.
Another bonus, it's easy to make and is perfect for preparing ahead of time for stress-free entertaining.
This inspired Carrot Cake Cheesecake recipe is from the kitchens of Caramel Potatoes.
For another brilliant cake and cheesecake combination, have a look at this great Red Velvet Cheesecake recipe. Meanwhile, I'm thinking about other types of cake I can add a layer of cheesecake to for such impressive results. I'll keep you posted…

Carrot Cake Cheesecake Recipe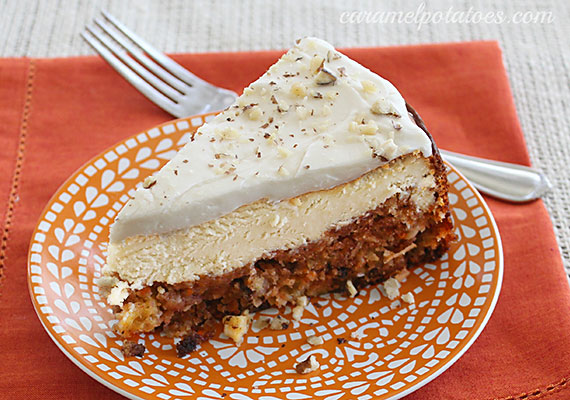 Ingredients
For the Cheesecake:
16 ounces cream cheese ( at room temp)
¾ cup sugar
2½ teaspoons vanilla extract
1 tablespoon flour
3 eggs
For the Carrot Cake:
¾ cup vegetable oil
1 cup granulated sugar
2 eggs
1½ teaspoons vanilla extract
1 cup flour
1 teaspoon baking soda
1½ teaspoon cinnamon
1 (8½ ounce) can crushed pineapple, well drained with juice reserved
1 cup grated carrots
½ cup flaked coconut
½ cup chopped walnuts (more to garnish, optional)
For the Pineapple Cream Cheese Frosting:
2 ounces cream cheese, softened
1 tablespoon butter, softened
1¾ cups powdered sugar
½ teaspoon vanilla
1 tablespoon reserved pineapple juice