An egg and dairy free Carrot Cake recipe with a dreamy-creamy cashew nut frosting.
As you all know, I "collect" carrot cake recipes (and lemon cakes too but that's another story). This recipe caught my eye for the cashew nut frosting. Carrot cake with cashew nut – that's a combination I hadn't seen before.
The cake and frosting are both dairy and egg free so suitable for people with allergies or vegans, and everyone who appreciates a slice of very good carrot cake.
The carrot cake is spiced with cinnamon, cardamom and orange zest and spiked with sultanas and pecans. It's dense, moist and full of flavor. The cake is so good all by itself that, strictly speaking, you actually don't need any frosting.
But if you don't frost the cake, you'll miss out on the wonderful cashew nut frosting. And you really don't want to miss out on this.
Raw, unsalted cashew nuts that have been soaked in water are blitzed in a food processor with orange juice, icing sugar and vanilla essence. So simple, but so full of flavor. This cashew frosting makes for a very worthy substitute -and pleasant change, from the more traditional cream cheese frosting.
This egg and dairy free Carrot Cake recipe is from the vegetarian baking queen Trudy at Veggie Num Num.
If you're always searching for your holy grail carrot cake recipe, take a look at The Answer is Cake's Carrot Cake Recipe collection. You might just find your perfect recipe.
Or if you've got a favorite carrot cake recipe that you think I should know about, please do send me an email or leave a comment below. You can never have too many carrot cake recipes in my view – well I can't anyway.

Egg and Dairy Free Carrot Cake Recipe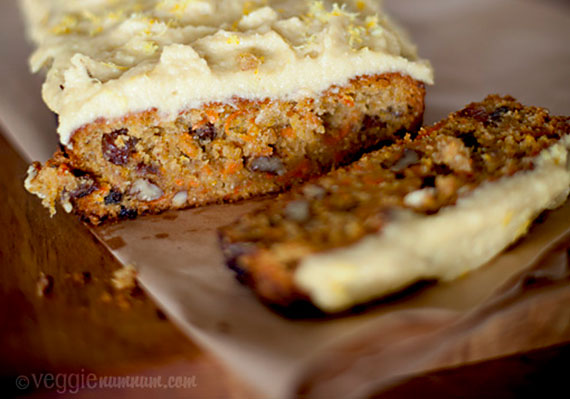 Ingredients
For the Carrot Cake:
White chia seeds
Water
Unbleached self raising flour
Ground cinnamon
Ground cardamom
Soft brown sugar
Grated carrot
Sultanas (raisins)
Pecans, roughly chopped
Orange zest
Rice bran (or vegetable) oil
For the Cashew Nut Frosting:
Raw un-salted cashew nuts
Orange, juice only
Icing (powdered) sugar
Pure vanilla essence