How do you make a classic Pineapple Upside-down Cake recipe even better? Double it of course.

This two-layer Pineapple Upside-down Cake has all the usual features of the traditional recipe including canned pineapple rings and maraschino cherries – but it's twice as good. Basically think of the best pineapple upside-down cake recipe that you know – and double it.
The ingenious twist with this version is that you simply make two cakes and layer them together.
You don't even need any filling or frosting between the two cakes – the syrupy, brown sugar and pineapple topping makes a perfect center layer. Possibly the easiest layer cake around.
Why didn't anyone think of this sooner? Doesn't it seem obvious now?
I was very excited to discover you can actually buy specialty pans to bake pineapple upside-down cakes. There are pineapple-shaped indentations in the base to guide you where to position your fruit rings. Ok – so maybe a pan like this isn't a baking necessity, be geez it's fun. You can see the pans here.
Anyway, back to this cake. The biggest challenge with this recipe is getting the second cake – which becomes the top layer, perfectly positioned. But don't fret, the recipe gives you good instructions and pictures to help you get this right.
This super clever recipe is shared by Gourmet Meals for Less.

Pineapple Upside-down Cake Recipe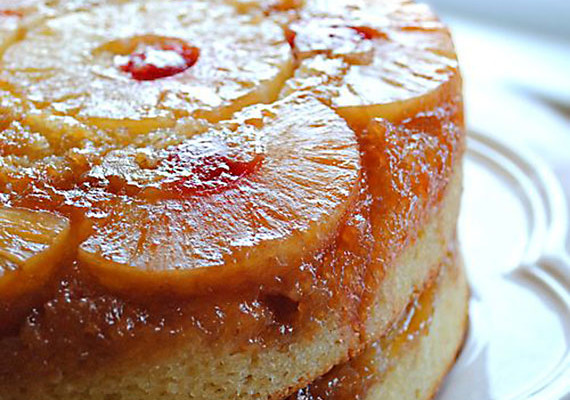 Ingredients
¼ cup butter or margarine
⅔ cup packed brown sugar
1 14 oz. can pineapple slices, drained reserving juice
1 jar maraschino cherries without stems
2⅔ cups all-purpose flour
2 cups granulated sugar
1 stick of butter, softened to room temperature
3 teaspoons baking powder
1 teaspoon salt
1 ½ cup milk
2 eggs
3 Tbs. reserved pineapple juice