An easy and delicious Nectarine Upside-down Cake that's delicately spiced with cinnamon, nutmeg and vanilla and topped with juicy baked nectarines.

It's no secret that I love my upside-down cakes – there's a whole section devoted to them here on The Answer is Cake.
What's not to like? Upside-down cakes are very simple to make and I adore the way the fruit bakes to a wonderful intensity of flavor, texture and color.
First let's talk about how simple upside-down cakes are to make. The batter for this cake is simply whizzed in the food processor – easy, easy, easy.
Another great thing about the humble upside-down cake is what Renee at Magnolia Days talks about in her post for this recipe – upside-down cakes are extremely versatile.
Renee had planned an apricot version of this cake, but when apricots weren't available, she went with nectarines. As Renee says, any stone fruit would have been great – peaches, plums, pluots. In fact, it's not just stone fruits that work well in this style of cake. I'm struggling to think of any fruit that wouldn't do well in an upside-down cake recipe.
And the versatility continues. Don't have fresh fruit? Canned or frozen fruit or berries work perfectly too.
There are two main complaints I hear about upside-down cakes. One is that they're not that pretty to look at. Sure, sometimes they can look a little messy, but as this picture proves, that's not always the case. Besides, even the messy ones taste amazing. Cover with cream, ice-cream or custard and no one will be complaining.
The other issue with upside-down cakes is that they can stick when you're trying to de-pan. Make sure you take the cake out of the pan while it is still warm (not just-out-of-the-over-hot, but warm), and you should be fine. The main thing is that you don't let the cake get cold in the pan. The fruit topping acts like a sticky glue that makes it's hard to detach from the bottom of the tin.
Renee at Magnolia Days shares the upside-down cake love with this recipe.

Nectarine Upside-down Cake Recipe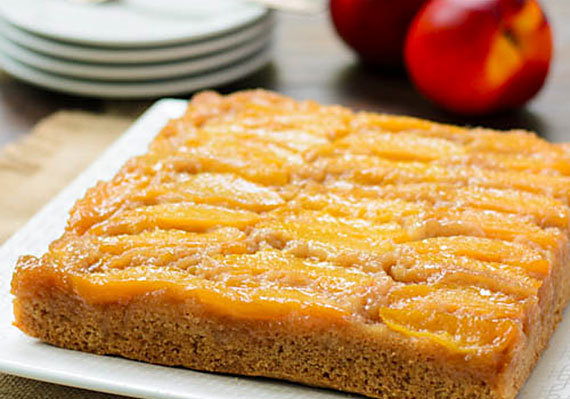 Ingredients
Unsalted butter
Light brown sugar
Vanilla extract
5 medium nectarines
Cake flour
Ground cinnamon
Baking powder
Salt
Ground nutmeg
Granulated sugar
Eggs