An easy Rhubarb Crumble Cake that's sure to please – it certainly pleases me!
This recipe has got everything I look for in a cake: great texture, color and taste – plus it's super easy to make.
Let's go through each of these elements.
I think variations in texture always make for a more interesting cake (I also believe that you can never have too much crumble on a cake – but maybe that's just me). There are many different textures here – the rich almond meal base for the cake, the flaked almonds and crumble on top and the juicy soft pieces of baked rhubarb.
Rhubarb is so very satisfying to bake with, not only for its flavor but also for its gorgeous pinky-red color. When you're choosing your rhubarb, select the brightest colored stalks for maximum taste and color.
And how does this Rhubarb Crumble Cake taste? Well, the sweet tartness of rhubarb and the rich earthiness of almond is a wonderful flavor combination. There's also the added zing of orange zest in the crumble and a touch of warming cinnamon in the cake base. Absolutely delicious – a definite tick on the taste front.
And last but not least, this cake is very simple to make. As its creator, Sonali at Sugar et al, says, "This is one of those fuss free cakes where you just toss everything into a bowl and mix. I love recipes where you don't need to cream the butter". No arguments here Sonali!
This lovely Rhubarb Crumble Cake is shared by the very talented Sonali at Sugar et al.
If you're looking for more rhubarb cake recipes take a look over here.

Rhubarb Crumble Cake Recipe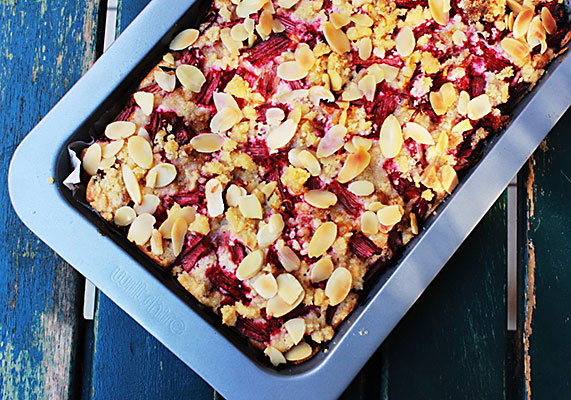 Ingredients
For the Rhubarb Cake:
1 bunch young rhubarb
Icing sugar
Plain flour
Ground cinnamon
Almond meal
Unsalted butter, melted
Egg whites
Demerara sugar/brown sugar
For the crumble topping:
Castor sugar
Plain flour
Unsalted butter, softened
Orange zest
Sliced/flaked almonds