Have you been making meringue, pavlova or angel food cake? Do you have up to a dozen egg yolks left over? Try this great Egg Yolk Cake recipe.
Better known as Gold Cake – this is a fantastic recipe to use up left-over egg yolks.
I often feel a bit burdened by left over egg yolks. I would never-ever just throw them away so they usually end up in custard – a lot of custard. Don't get me wrong, homemade custard is utterly delicious, but it loses a little of the joy when I feel compelled to make it (and then eat it) as a by-product of a baking session.
So I was delighted to come across this Gold Cake recipe from Joe Pastry that uses up to a dozen egg yolks. Joe's recipe calls for the full 12 egg yolks, but I see no problem scaling the ingredients, pan size and baking time to accommodate my next batch of left over egg yolks (I wouldn't go less than six egg yolks though).
Essentially an egg yolk sponge cake, the method is pretty much the same as you would use for an angel food cake. The egg yolk cake also has the same light and delicate texture of it's more famous airy cousin.
And a small note on the Joe Pastry website – I can't recommend this site enough. All the recipes have step by step instructions and photographs but what makes this site such a joy is how much you will learn about the science of baking (and cakes are only a very small part of the site). Joe explains the science, with some history thrown in for good measure, in easy to understand language. I always learn a thing or two about baking when I visit. Check it out!
The king of baking, Joe Pastry shares this great Egg Yolk Cake recipe.
From the opposite end of the egg spectrum, this Raspberry Angel Food Cake or this Chocolate Pavlova with Blackberries are heavy on egg whites – but at least now you know what to do with the yolks.

Egg Yolk Cake Recipe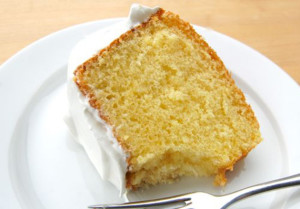 Ingredients
8.75 ounces (1¾ cups) cake flour
2 teaspoons baking powder
¼ teaspoon salt
12 egg yolks, room temperature
6 ounces (3/4 cup) milk, room temperature
½ teaspoon vanilla extract
½ teaspoon lemon extract (or orange or almond)
7 ounces (1 cup) sugar