A friend of mine says that muffins are just a way to have cake for breakfast. I think she's right.

In this easy recipe the blueberries really shine against the buttermilk, lemon zest and vanilla cake.
Is it a muffin? Or cake? Or muffin cake? It doesn't really matter. Whatever you call it this fruity treat is perfect for breakfast or any other time of the day.
To give your future breakfast choices a touch of variety, here's another great option.
Before we go any further, allow me to clear one thing up. Don't get me wrong – I'm not saying this is something that you should eat for breakfast every single day, but as a little treat now and again you'll be fine. I'm all about moderation (so please don't write to me complaining I don't promote healthy eating – this is a cake site people!)
Brilliant berries give you so many options
Now that I've got that out of the way, back to the recipe. This is a very versatile recipe. You can use fresh or frozen berries (I wouldn't do canned berries – I just don't like the texture).
Or change the type of berries you're using – raspberry or blackberries would be a good substitution. Mix it up with orange instead of lemon zest. Lots of options here.
Some useful tips for baking muffins
Of course, the best tip with any muffin recipe is to not over mix the batter. Fold your ingredients until they are just combined otherwise you'll end up with tough little nuggets.
Another thing to watch is the baking soda or baking powder. Because the aim is to mix the batter as little as possible, baking soda/powder can end up not getting properly distributed through the batter. No one wants a mouthful of baking soda when they bite into a muffin (one of my favourite cafes is guilty of this – really annoys me when I taste that spike of soda in an otherwise delicious muffin).
Just make sure that you add the leaving agent to the dry flour and combine well. Sift both together for best results and no nasty pockets of baking soda.
This breaky delight is shared by Dishing The Divine.
If you need a few tips to get the most out of baking with berries, our handy guide should help.

Blueberry Muffin Cake Recipe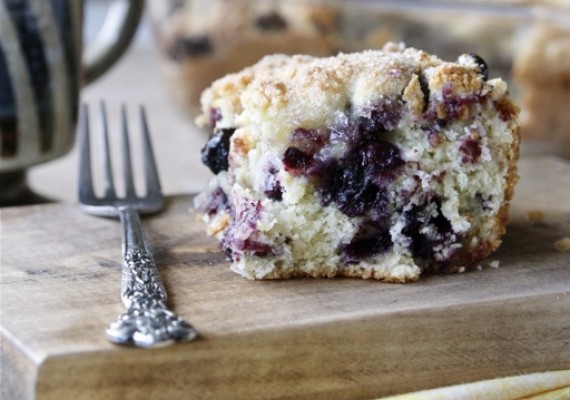 Ingredients
½ cup (1 stick) unsalted butter, room temperature
2 tsp. lemon zest
¾ cup + 2 tablespoons cup sugar
1 egg, room temperature
1 tsp. vanilla
2 cups flour
2 tsp. baking powder
1 tsp. kosher salt
1.5 - 2 cups blueberries, fresh, or frozen and unthawed
½ - ¾ cup buttermilk
1 tablespoon sugar for sprinkling on top
Instructions
For the full recipe go here.