Are you looking for a delicious mint chocolate cake recipe? Well look no further than this chocolate mint cake.

Layers and layers of delicious chocolate cake and fresh minty frosting. It's rich and intense and absolutely divine.

The contrast between the dark chocolate cake layers and white mint frosting is both lovely to look at and delicious to eat.
It's like a giant after dinner mint or mint slice biscuit.
Heed the recipe and use mint extract not artificial mint flavouring. Chocolate and mint is such a great flavour combination, I'm surprised you don't see more cake recipes using mint really. Hold onto this gem.
The cake genius behind this delicious Midnight Mint Chocolate Cake creation is Rock Recipes.

Mint Chocolate Cake Recipe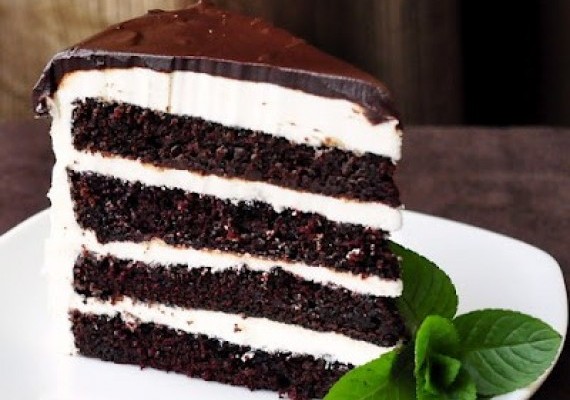 Ingredients
For the Chocolate Cake
2 cups sugar
2 cups all purpose flour
¾ cup cocoa
2 tsp. baking powder
1 tsp baking soda
½ tsp salt
2 eggs
1 cup soured milk (milk plus 1 tbsp lemon juice or vinegar)
1 cup black coffee
½ cup vegetable oil
1 tsp vanilla extract
For the Mint Frosting:
8 cups icing sugar (i.e. powdered sugar, confectioners sugar)
1 cup vegetable shortening
1 cup butter
1 tbsp mint extract (NOT artificial mint flavoring)
Approximately 6 tbsp milk
For the Chocolate Ganache Glaze:
1 cup semi-sweet chocolate chips
¼ cup whipping cream
2 tsp mint extract

Happy baking!