This Rhubarb Coffee Cake is my idea of heaven. I adore this cake – rhubarb, almond and crumble all in one. If you're a rhubarb fan too, you'll love this.

Here we have a gorgeous moist almond cake studded with tangy jewels of fresh rhubarb. As if that weren't enough to please, add a delicious crumb topping made with almonds and oats.
This cake makes my list of favourite recipes time-and-time again.
What's more, I've also converted a few people who claimed to not like rhubarb with this recipe. It really is that good.
Make sure you choose the brightest, reddest stems of rhubarb for maximum flavour.
By the way, this is a coffee cake in the sense that it goes well with a cup of coffee. There is no coffee (or coffee flavouring) in this cake.
The cake guru behind this delicious Rhubarb Coffee Cake is the lovely Bobbi Vivant.
If you like vegetables in cake, have you seen this delicious carrot cake recipe?

Rhubarb Coffee Cake Recipe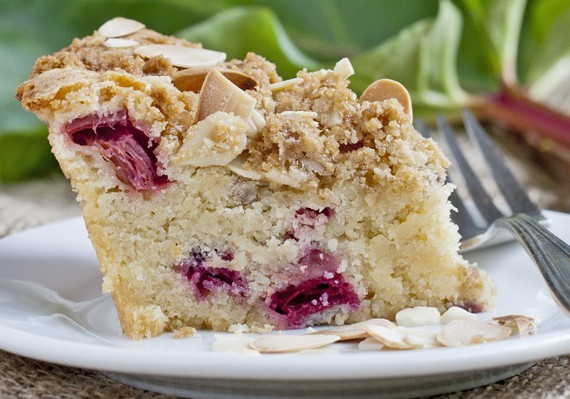 Ingredients
For the Crumb:
2 tablespoons white whole wheat flour (or all purpose)
2 tablespoons slivered almonds
2 tablespoons rolled oats
¼ cup brown sugar
¼ teaspoon salt
2 tablespoons unsalted butter
For the Cake:
2 large eggs
1¼ cups granulated sugar
½ teaspoon salt
1 teaspoon almond extract
6 tablespoons unsalted butter, melted
1¼ cups white whole wheat flour (or all purpose)
1½ cups rhubarb, cut into ½″ pieces

Happy baking!