This Persian Love Cake is full of surprises.
How can a cake with so few ingredients taste so fantastic? And how can a cake that tastes so amazing be so super easy to make?
The name alone conjures up images of exotic lands, pashas and harems. And one taste and you'll be swept away to somewhere wonderful.
This Persian cake has a beautiful moist texture. It's a ground almond cake packed full of nutmeg goodness. Serve topped with bright green pistachios and thick creamy Greek yoghurt and you'll certainly be loved for making it.
Gluten free too if that's an issue for you.
Proves that love IS all you need. And cake. This cake.
This Persian Love Cake is made with love (and talent) by Jules' Food.
Interesting in another exotic spice cake? Try this Armenian Cake with Walnuts and Nutmeg.

Persian Love Cake Recipe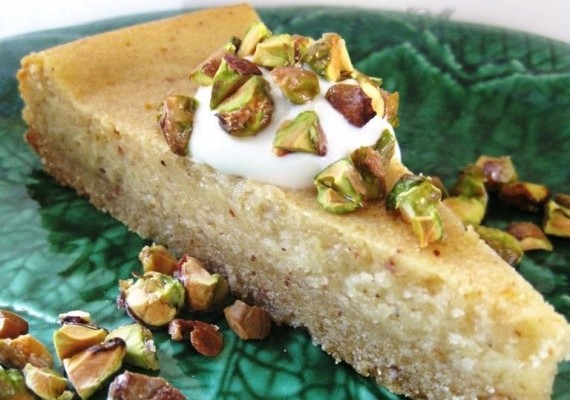 Ingredients
360 gm almond meal
220 gm raw sugar
220 gm brown sugar
120 gm unsalted butter, softened
2 eggs, lightly beaten
250 gm Greek-style yoghurt, plus extra to serve
1 tbsp freshly grated nutmeg

Happy baking!