A wonderfully Moist Yellow Cake recipe. Everyone needs a great basic yellow cake recipe and this is my go-to.

Here a wonderfully moist yellow cake is layered and paired with pretty-as-a-picture pale pink frosting that will please any princess.
The recipe includes a brilliant trick to add the extra moisture into your cake layers.
You make up a sugar water solution (1 cup sugar to 2 cups water) and pop it in a spray bottle. After poking a few holes in your baked cake layers, you then mist your cake with the sugar water. Absolutely inspired and extremely effective. Only mist the cakes with the sugar solution, you don't want the cakes to be too wet.
This excellent Moist Yellow Cake recipe is from the cake baking legend Bakerella.

Moist Yellow Cake Recipe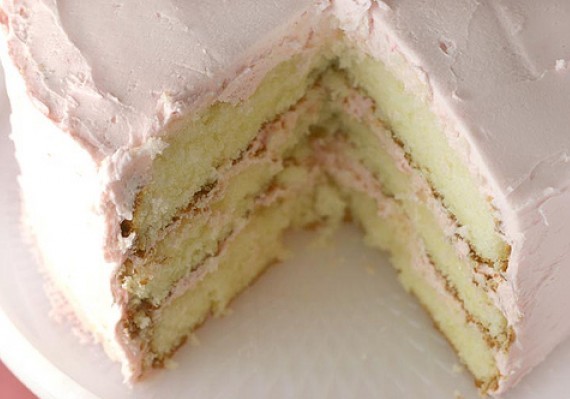 Ingredients
For the cake:
1 cup (2 sticks) of butter (room temperature)
2 cups of sugar
4 eggs (room temperature)
3 cups of sifted self-rising flour
1 cup of whole milk (room temperature)
1 teaspoon pure vanilla extract
½ teaspoon butter flavoring
For the frosting:
1 cup (2 sticks) butter (room temperature)
1 teaspoon pure vanilla extract
1 1b. 10X powdered sugar
1-3 teaspoons milk, half and half or cream