These Mini Carrot Bundt Cakes are bite-sized baked delights made with a great healthy carrot cake recipe.

Beautifully spiced with a combination of cinnamon, nutmeg, allspice, cloves and vanilla the cakes are moist thanks to coconut oil, Greek yoghurt and applesauce.

Grated carrots, whole wheat flour and rolled oats give a lovely texture – more on the side of muffins than a fine crumbed cake. In fact, if you don't have mini bundt cake pans you can use muffin pans for the same great results. Or make the recipe as one large bundt cake if you don't have smaller tins.
And it you doubt the healthy calorie conscious benefits of these little bundt cake beauties, they are Weight Watchers Point friendly too (4 Points Plus each).
I'm not sure why I always find mini cakes are so irresistible (especially as I'm not the biggest cupcake fan). But mini or not, this is a great healthy carrot cake recipe option.
The mini cake genius behind these Mini Carrot Bundt Cakes is the lovely Alyssa at Everyday Maven.

Mini Carrot Bundt Cakes Recipe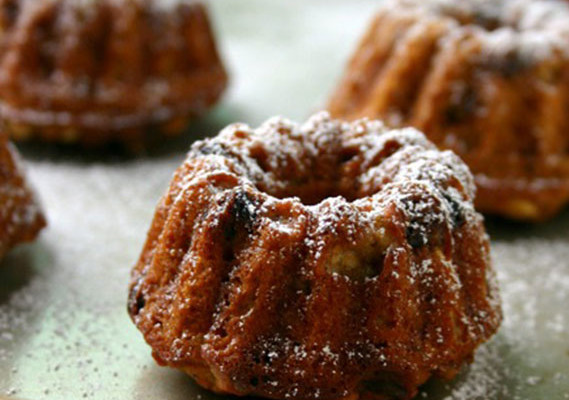 Ingredients
1 cup unbleached white whole wheat flour
½ cup rolled oats
2 teaspoons baking powder
2 teaspoons cinnamon
¾ teaspoon freshly ground nutmeg
½ teaspoon allspice
½ teaspoon sea salt
¼ teaspoon ground cloves
2 large eggs, room temperature
2 teaspoons pure vanilla extract
2 tablespoon coconut oil
½ cup plain 2% greek yogurt
¼ cup unsweetened applesauce
½ cup organic sugar
2 cups shredded carrots (approximately 4 medium carrots)
½ cup raisins
powdered sugar (optional for serving)