If you're looking for recipe for a coconut oil cake, this Vanilla Orange Bundt Cake with Coconut Oil is worth a look.
This is one seriously interesting cake recipe.
The use of coconut oil gives the cake a beautiful perfume and great texture but vanilla and orange are the upfront flavors. The vanilla is from both vanilla bean seeds and extract. The orange flavor from generous quantities of zest and pureed orange pulp.
Then there's a pinch of cayenne pepper to cut through some of the sweetness and give balance to the recipe.
And if you thought all that sounded good enough, add in a splash of not one, but five different types of alcohol. There's tequila, coconut rum, limoncello, triple sec and Tuaca. This array of liqueur gives the cake a depth of flavor and warmth. It's like a cocktail in a cake (probably not one for the kiddies).
And then there's the gorgeous bundt pan design. Pretty as a picture with a simple dusting of icing sugar. If you like this bundt pan you can get it here: Wilton Dimensions Belle Pan
.
This deliciously inventive Vanilla Orange Bundt Cake with Coconut Oil is shared by The Spiced Life.
Coconut Oil Cake - Vanilla Orange Bundt Cake with Coconut Oil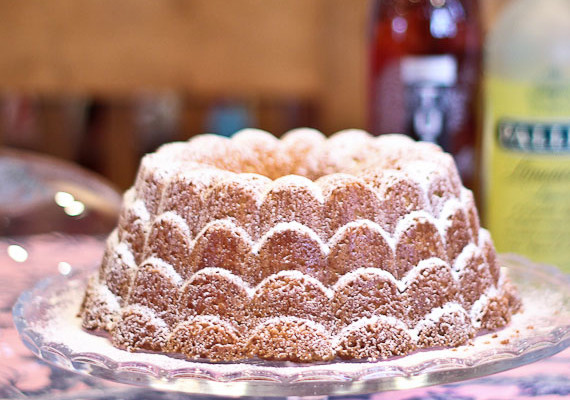 Ingredients
3 cups (378 g) AP flour
1½ t cornstarch
½ t salt
¼ t cayenne pepper
¼ t baking soda
¾ cup (1½ sticks) unsalted butter, room temperature
¼ cup extra virgin coconut oil
seeds from one fat, soft vanilla bean
zest of 2 oranges
3 cups sugar
5 eggs
2 egg yolks
2 t decent quality tequila
2 t coconut rum
1 t limoncello
1 triple sec
1 t Tuaca
2 t vanilla
½ cup orange purée (about 3 oranges)
1 cup full fat sour cream