Why haven't I shared this flourless orange cake recipe before now?
Gluten and sugar free, this Flourless Blood Orange Cake relies on the clever combination of its ingredients for maximum taste and texture. The almond and hazelnut meals provide a wonderful texture and mellow nutty base for the orange and honey flavours to shine.
And shine they do. With a cup of honey and the zest and juice of two oranges, this cake is lovely and moist thanks to the olive oil  and utterly intoxicating in its aroma and flavours.
I really recommend not skipping the Blood Orange and Honey Compote. It takes the cake to a whole new level of syrupy citrusy deliciousness. A splash of orange liqueur would work nicely here if you so desired.
Don't worry if you don't have blood oranges, regular oranges work just as well. Just make sure your oranges are juicy, sweet and fragrant to impart maximum flavour.
The incredible Jennifer at Delicieux shares her wonderful gluten and sugar free Flourless Blood Orange Cake.
For another sugar free cake recipe that is astoundingly good, take a peek at this Strawberry Ricotta Cake.

Flourless Blood Orange Cake (gluten free and sugar free)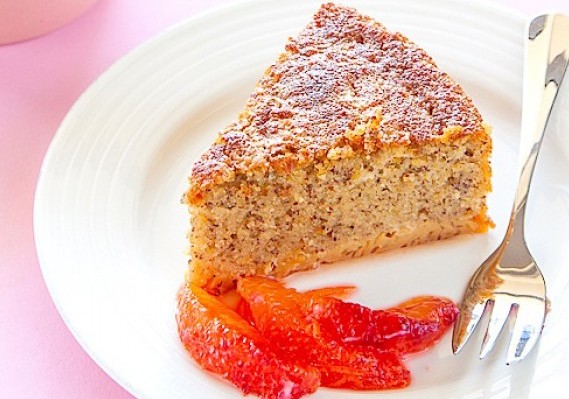 Ingredients
For the cake:
1 cup of almond meal
1 cup of hazelnut meal
1 teaspoon baking powder
pinch of sea salt
6 room temperature eggs
1 cup honey
¼ cup olive oil
zest and juice of 2 blood oranges
For the Blood Orange and Honey Compote
2 blood oranges
1 tbs of honey

Happy Baking!