Serve yourself a slice of cheesecake perfection with what has to be one of the best Blueberry Cheesecake recipes around.
What makes this particular Blueberry Cheesecake recipe the best?
Well, let's start with a divine baked filling made with 32 ounces of cream cheese (that's nearly a kilo), 16 ounces of sour cream and five large eggs for a seriously rich and creamy cheesecake.
And then there's the crust. I have to say I do enjoy a full biscuit crust on my cheesecakes – a nice high side as well as a base. In my mind that's the perfect crust to filling ratio.
This recipe is versatile too – the blueberry topping can be made of either fresh or frozen blueberries so you can enjoy this cheesecake all year around.
All in all, you end up with a perfect biscuit crust, a perfect creamy baked cheesecake filling, and a perfect blueberry and jam topping. All deliciously perfect. The best Blueberry Cheesecake recipe.
The always inspiring Cupcakes and Cashmere shares this utterly fabulous Blueberry Cheesecake recipe.
For more amazing cheesecake recipes have a look at this list of 10 of the best cheesecake recipes.

Best Blueberry Cheesecake Recipe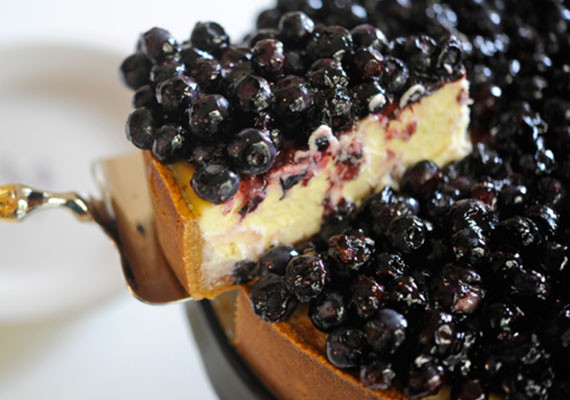 Ingredients
For the Biscuit Crust:
2⅓ cups graham cracker crumbs
½ cup (1 stick) unsalted butter, melted
¼ cup sugar
For the Cheesecake Filling:
4 8-ounce packages cream cheese, room temperature
1½ cups sugar
¼ cup all purpose flour
5 large eggs
1 16-ounce container sour cream
¼ cup milk
1 tablespoon vanilla extract
For the Blueberry Topping:
⅓ cup all-fruit blueberry spread
12 ounces fresh or frozen blueberries