A lovely Lemon Cake Roll recipe.

A light and airy lemon zest cake is rolled with an utterly gorgeous, spoon-licking-good lemon filling.
It's fresh, light and tangy all at once. And it looks fabulous too.
I think this lemon roll cake wins my award for cake roll filling (sorry my jammy Swiss Roll friends). It's made from luscious lemon curd and mascarpone (you can use cream as well). If you're a lemon curd fan like I am, you simply must try it lightened with a little mascarpone like this – divine.
The original recipe calls for Meyer Lemon but any lemon will do. I usually hold back a a little of the sugar when making lemon curd. Some lemons are more sour than others and require a more sugar, but sometime you can get away with less sugar. You'll know pretty quickly when you combine all the ingredients and begin heating the curd ingredients if it's too tart. You can add more sugar if necessary at this point.
Cake rolls look so very impressive but they're actually pretty easy to get the hang of. The trick is making sure you roll your cake while it's still warm, 3-4 minutes out of the oven and let it cool in the shape you want it to hold. There are good instructions with the recipe on the art of making a cake roll.
The genius behind this Lemon Cake Roll recipe is the brilliant Buttercream Blondie.

Lemon Cake Roll Recipe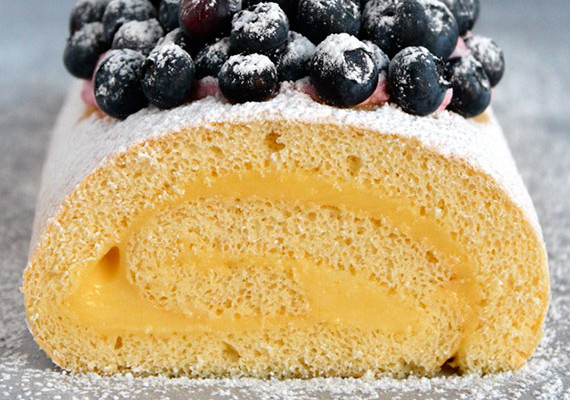 Ingredients
For the Lemon Curd:
8 egg yolks
1 & ¼ cups sugar
zest of 1 meyer lemon
¾ cup meyer lemon juice
1 stick unsalted butter, cubed
For the Lemon Cake Roll:
4 eggs, separated
¾ cup sugar
zest of 2 meyer lemons
1 Tablespoon canola oil
1 teaspoon vanilla extract
⅔ cup cake flour
¼ teaspoon salt
1 teaspoon baking powder
For the Lemon Mascarpone Filling:
16 ounces lemon curd (1 batch)
8 ounces mascarpone
Berries for garnish