Truly splendid Lemon Buttermilk Cake with Strawberry and Pimms Compote.
I'm not sure what I like more – the Lemon Buttermilk Cake or the luscious strawberry and Pimms topping. Together they are a star combination.
This is a delicious and delicate lemon cake which is taken to new levels with an inspired compote of strawberries spiked with Pimms.
This compote is one of those recipes I read and wonder why I didn't think of it.
I love Pimms (it's like drinking summer in a glass), strawberries are one of my favorite things (I know the word for "strawberry" in six languages yet I'm hopeless with foreign languages), and I often nibble on fresh mint leaves just because I come across them (mainly in people's gardens). Put all these ingredients together with a splash of vanilla and it's my idea of heaven.
And don't forget you can use this bright and luscious strawberry compote on other cakes and desserts too.
The talented Spicy Ice-cream shares this lovely Lemon and Buttermilk Cake with Strawberry and Pimms Compote.

Lemon Buttermilk Cake with Strawberry and Pimms Compote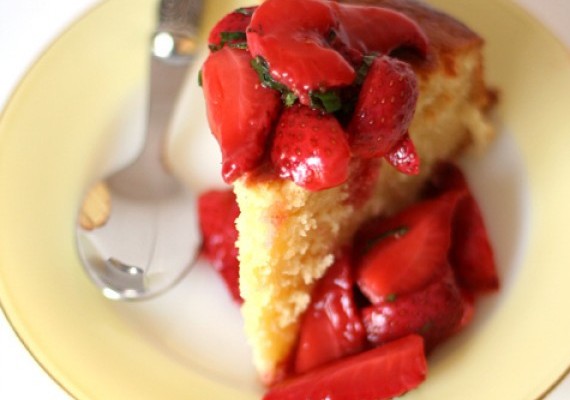 Ingredients
For the Lemon and Buttermilk Cake:
250g unsalted butter
2 cups raw sugar
4 eggs, at room temperature
Zest of 2 lemon
1 teaspoon minced ginger
3 cups plain flour
½ teaspoon baking powder
½ teaspoon baking soda
1 teaspoon salt
Juice of 1 lemon
¾ cup buttermilk
1 ½ teaspoons vanilla extract
For the Strawberry and Pimms Compote:
2 cups strawberries, hulled
3 tablespoons Pimms
1 teaspoon vanilla extract
1 teaspoon caster sugar (or to taste, depending on the sweetness of the strawberries)
8 fresh mint leaves, julienne

Happy baking!