This gorgeous Upside Down Pear Cake with honey and orange is a delight.
One thing I love about this recipe is that you roast the pears first.
The pears are drizzled with orange juice and honey and then baked which infuses the fruit with the most heavenly sweet flavor and luscious texture.
The cake itself is rich, moist and nutty thanks to the almond and hazelnut meal. A touch of dessicated coconut also adds a lovely note. Generous amounts of orange zest balance out the richness of the cake as well as serving to tie in the flavor of the roast pears which have been baked with orange juice.
Upside down cakes are one of the easiest and most delicious styles of cake to make. This Upside Down Pear Cake recipe has a little added complexity as you need to roast the pears before-hand, but it isn't difficult. You can roast the pears the day before and then make the cake just before serving if that makes it easier.
One complaint I do hear about upside-down cakes is that they can stick when you're trying to de-pan. Make sure you take the cake out of the pan while it is still warm (not just-out-of-the-over-hot, but warm), and you should be fine. The main thing is that you don't let the cake get cold in the pan. The fruit topping acts like a sticky glue that makes it's hard to detach from the bottom of the tin.
As far as upside down cakes go, this pear version is an impressive and totally delectable delight.
The baking star behind this Upside Down Pear Cake is The New Tastement.
If you're a fan of upside down cakes like I am, take a peek at The Answer is Cake's Upside Down Cake recipe collection.

Upside-Down Pear Cake Recipe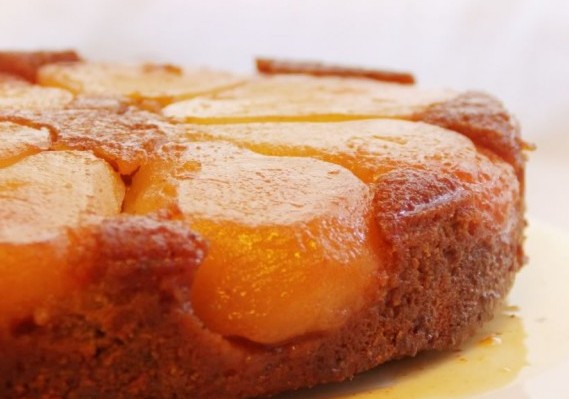 Ingredients
For the cake:
150g caster sugar
100g almond meal
100g hazelnut meal
60g desiccated coconut
100g rye flour
200g canola oil
200g honey
3 eggs, at room temperature, lightly whisked
Zest of two oranges
1 tsp vanilla essence or scraped vanilla seeds.
For the Roast Pears:
4 large pears (such as Williams)
Juice of 1 orange
Honey to drizzle
3 or 4 tsp granulated sugar to sprinkle.
Happy baking!