I thought a ginger chocolate cake was about as good as ginger could get in cake terms – but I was wrong! So wrong.

Ok – I admit I was skeptical at first. A friend of mine requested this cake for a special afternoon tea. Coffee and fresh ginger – really?
But I was completely won over.
Dried apricots also add to the delights of this cake. Who doesn't love the surprise of chewy, sweet dried apricots in a cake?
This wonderful Coffee and Ginger Cake has subtle yet complex flavours to delight ginger – and coffee – lovers. Of which I am both.
The ginger queen behind this Coffee and Ginger Cake is Apocalypse Bakery.

Coffee and Ginger Cake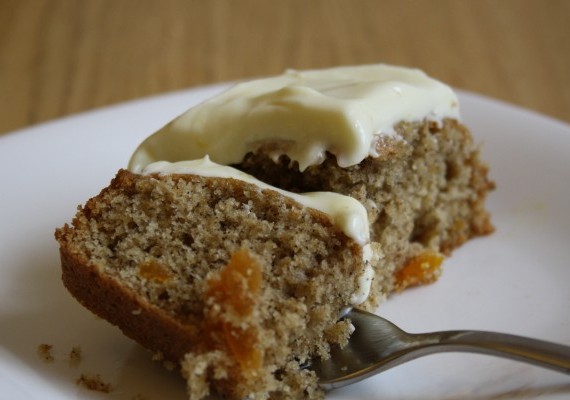 Ingredients
For the Cake:
50g unsalted butter
75ml milk
1 tablespoon ground coffee (not instant)
2cm piece root ginger, finely grated/chopped
2 large eggs
225g caster sugar
100ml vegetable or sunflour oil
75g chopped dried apricots
275g plain flour
3 tsp baking powder
For the Cream Cheese Lemon Zest Icing
125g butter
200g cream cheese
Finely grated zest of 1 lemon
2 teaspoon lemon juice
175g icing sugar

Happy baking!