Don't you just love it when something you really like turns out to be really good for you too?
My new favorite carrot cake happens to be healthy!
Is it a low calorie carrot cake? No. This carrot cake is healthy in the sense that it's highly nutritious. It's not diet food (if there really is such a thing). There are no "empty calories" here. This is a sweet treat that nourishes with a whole host of vitamins, minerals, antioxidants and fiber, all drawn from natural fruits and nuts – and carrots of course.
It's a gluten free, refined sugar free and also happens to be dairy free and eggless. Pretty friendly all around really.
And it's tasty. Very, very, tasty.
That's what you get when you combine carrots, dates, sultanas, dried apricots, dried pineapple, coconut, orange zest, maple syrup and cinnamon with almond and hazelnut meal. It's moist, dense and full of flavor. So much flavor!

Then there's the dreamy creamy cashew frosting.

The cashew cream frosting takes a little while to make in your blender, but it's certainly not difficult. Please be aware that you need a high power blender to get the cream nice and smooth. You may find your regular blender struggles to produce the silky smooth textured cream – and I'd hate for you to burn out the motor on your blender trying this recipe.

For this recipe I used two mini spring-form pans and made double-layered cakes. You could make this as a single layered cake or even smaller bite-sized tarts. But just make sure that you use spring-form pans or pans with removable bases or you'll have difficulty de-panning.

I decorated these carrot cakes with a tropical fruit and nut mix I happened to have in the cupboard. I also added a layer of cashew cream frosting and the tropical mix in the middle of the cakes, for a little more texture, color and even more flavor. Shredded or flaked coconut would work really well too.

Like many cakes, the flavors develop further the longer you leave them. While you can make this carrot cake and serve it immediately, leaving the undecorated cakes overnight is perfect. Just cover with a plate or plastic wrap when in the refrigerator so the top surface doesn't dry out.

The cakes are very rich so you only need a small slice. One mini cake serves three people perfectly.

I adore traditional carrot cake so I was overjoyed with the success of this Healthy Carrot Cake recipe. It's not often you get a cake recipe that's as delicious as the original version, but much better for you.

Enjoy – without guilt!

(If you're looking for a more traditional version, this Just Carrot Carrot Cake should be just what you're after).


Healthy Carrot Cake Recipe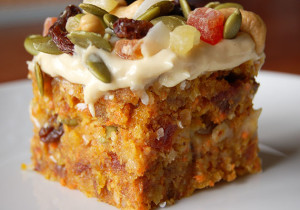 Ingredients
For the Cashew Cream Frosting:
2 cups cashews (preferably soaked for a few hours then drained. This is not entirely necessary but if the cashews aren't soaked you'll need to add more water).
⅓ cup maple syrup
2 tablespoon lemon juice
1 tablespoon coconut oil
Water (as required)
For the Carrot Cake:
2 large carrots, peeled and diced
1 cup almond meal
1 cup hazelnut meal
1 cup dates
½ cup dried apricots
½ teaspoon cinnamon (or to taste)
¼ cup shredded coconut
¼ cup dried pineapple
¼ cup sultanas or raisins
½ teaspoon orange zest
To decorate:
Dried fruits and nuts of your choice. Or shredded/flaked coconut.
Instructions
To make the Cashew Cream Frosting:
Step 1 – Place cashews into your high power blender (or food processor).
Step 2 – Blend on high speed until a paste-like cashew cream begins to form. You'll need to scrape the sides of the blender a few times to get the mixture to form.
Step 3 – Add the maple syrup, lemon juice and coconut oil. Blend until the cashews become creamier. Add water gradually and as little as possible. You want the cream frosting to loosen and become smooth and silky but you don't wan to dilute the flavors with water. How much water you need will vary (and will also depend on whether you pre-soaked your cashews).
To make the Carrot Cake:
Step 1 – Place the diced carrots, almond meal, hazelnut meal, dates, dried apricots, and cinnamon into your food processor. Blitz until very well combine and forms a soft paste.
Step 2 – Add coconut, dried pineapple, sultanas/raisins, and orange zest to the mixture in the food processor. Blitz very briefly until just combined. You want these ingredients to be less processed so that there's some texture variance in the finished cake (ie, you want some different sized "bits" in your cake).
To Assemble:
Use either two mini spring-form pans or a small spring-form pan.
Step 1 - Press a layer of carrot cake mixture into the base of your pan. It should approx 2.5cm (1 inch) thick.
Step 2 - Add a layer of cashew cream frosting.
Step 3 Optional: Sprinkle dried fruits and nuts on the cashew cream frosting layer. I used a tropical fruit mix I had in the cupboard for the cakes in the photo. It added a lovely color, texture and even more flavor. Shredded or flaked coconut would also work well.
Step 4 - Add another layer of carrot cake mixture onto of the cashew cream frosting (same thickness as your base layer). Smooth top of cake so it's even.
Step 5 – For best results refrigerate for a few hours (or overnight). Place plastic wrap or a plate over the top of the cake to prevent it drying out in the fridge. If you're not refrigerating, move straight onto Step 6.
Step 6 – Remove the cakes carefully from spring-form pans. The cakes will still be malleable so handle them gently.
Step 7 – Top cakes with cashew cream frosting and decorate as you like.
Step 8 – Slice with a sharp knife that's been heated under hot running water. This makes cutting the cake easier. Enjoy!