But healthy it is!

It's pretty hard to believe this healthy Chocolate Tart recipe is delicious and good for you. But don't get me wrong, this is not a calorie conscious recipe.
It's good for you in that the ingredients are more nutritious than a traditional chocolate tart and these calories are not "empty".
I've been on a bit of a health kick lately. I've been trying to maximize the nutritional value of all the food I eat. Not to lose weight as such but to feel more energized and vibrant.
There has been less creaming of butter and sugar and melting of chocolate and more processing dates and nuts and maple syrup.
And I have to say – I'm absolutely loving it.
I'm lucky as I eat and enjoy pretty much everything and far prefer unprocessed food. But there's no mistaking that I have a sweet tooth. I'm not about to stop treating myself – depriving myself of sweet treats is a sure-fire way to derail any attempts at healthy eating. But I have had to adopt a different approach to baking, desserts and treats.
The flavors, textures and colors are a revelation. And it's so very easy once you have a few basic tools and ingredients.
My most startling discovery to date has been this chocolate cream. It simply has to be one of the most delectable things you could ever make or eat.
I was shocked and stunned at how delicious it is. Especially as it's dairy free, sugar free, eggless, gluten free but nutritious and full of antioxidants. How is it so?
Whether or not you're trying to eat a little healthier – this chocolate cream is a knock-out.
Before you get too excited, a word of warning – you need a high power blender to make this chocolate cream. Cashews are the main ingredient of the "cream".  Your regular blender won't be up to making the cream as silky smooth as it needs to be – and you're likely to burn out the motor if you try. You have been warned.
But if you do have a high power blender (or a food processor with some serious grunt), you must give this recipe a try.
The cream is so very chocolatey and rich. Its texture is a cross between heavy cream and pudding. If you like dark chocolate you'll love this (and wonder how raw cacao alone can deliver that intensity of flavor).  It's a serious chocolate hit.
I've also used this chocolate cream as a dipping sauce for fresh fruit and it worked a treat.
For best results with these tarts, you need lots of fresh fruit to cut through the chocolate sweetness and balance the flavor. The crust is naturally sweet from the dates and the combination of the crust and chocolate cream needs an offset. If dairy isn't an issue for you, ice-cream, cream or yogurt would balance the chocolate intensity too (or their lactose free or vegan equivalents). Or maybe just a big glass of cold milk.
This style of dessert comes under the "raw" food category. I do wonder if I'd said that to start with if it would turn off some readers. I think terms like that can be intimidating for some people – and possibly misunderstood.
I don't have a food "agenda" – I'm not vegetarian nor do I have any food allergies or serious intolerance (thankfully). For me, I'm interested in how good it tastes and how nutritious it is. It helps when it looks this good too – you eat with your eyes as well remember.
I've discovered that I love making these healthier versions of desserts I've been baking for years. It's a new challenge and style of cooking and eating for me. There's lot to learn and discover – I had to Google the difference between cocoa and cacao (more on that later). And don't get me started on mesquite, macca and gubinge!
One thing's for sure, I'm going to be sharing many more healthy cake and dessert recipes from now on. This healthy version of a carrot cake also rocked my world. I hope you enjoy them as much as I do.

Healthy Chocolate Tart Recipe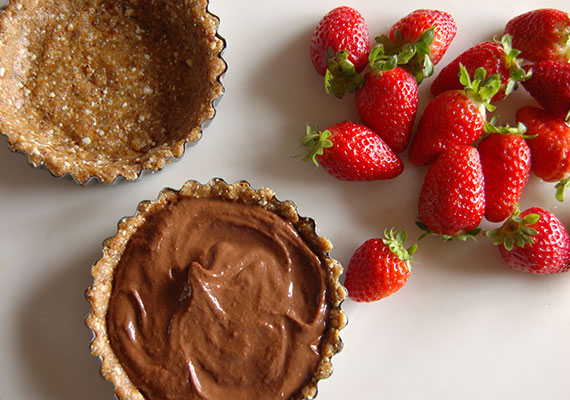 Ingredients
For the Crust:
½ cup almonds
½ cup cashews
1 cup dates
For the Chocolate Cream:
2 cups cashews
2 tablespoons coconut oil
¼ teaspoon salt
½ cup water
2 tablespoons lemon juice
1 cup dates
2 tablespoons maple syrup
1 teaspoon vanilla
¼ cup raw cacao powder
Fresh strawberries to decorate
Instructions
To make the crust:
Step 1 - Place all ingredients in your food processor. Process at high power until a soft paste begins to form. It should squish easily between your fingers.
Step 2 - Press into tart tins with removable bases or mini spring-form pans.
Step 3 - Refrigerate until needed.
To make the chocolate cream filling:
Step 1 - Place cashews into your high power blender (or food processor).
Step 2 - Blend on high speed until a cashew cream begins to form.
Step 3 - Add the salt and half of the coconut oil blend until the cashews are creamy and smooth.
Step 4 - Add the dates, remaining coconut oil, water, lemon juice and vanilla and maple syrup and blend until well combined and smooth.
Step 5 - Add the raw cacao and blend until well combined. At this stage the mixture should be smooth, silky and have a pudding-like consistency.
To assemble:
Step 1 - Spoon chocolate cream into your tart cases.
Step 2 - Top with halved fresh strawberries.
Step 3 - Refrigerate for at least 3 hours. The longer the better really as the flavors develop and intensify. If you leave the tarts overnight, for best results it's a good idea to leave the fruit off and top with the strawberries close to serving time. They just look fresher this way.