A simple recipe for apple cake that's full of the goodness of fresh apples. With a massive six cups of apples, this French Apple Cake recipe delivers one seriously appley cake.
Delicately spiced with vanilla, lemon zest and cardamom plus a splash of dark rum, there's a lovely depth to the flavour of this cake. If you're not a fan of rum simply leave it out.
As much as I love pie, an apple cake is a wonderful alternative from time to time. It's usually much quicker and easier to make than pie, but you still get all of that heartwarming, homemade apple goodness.
With so many apples, this French Apple Cake recipe is basically health food. How often can you say that about French food? If an apple a day keeps the doctor away, one slice of this and you're set for a while.
Pass the custard please. Or ice-cream. Or cream (oops – there goes the health food aspect).
This delicious French Apple Cake is from the kitchen of Apricosa.
For another simple apple cake recipe, have a look at this Apple Cinnamon Cake.

French Apple Cake Recipe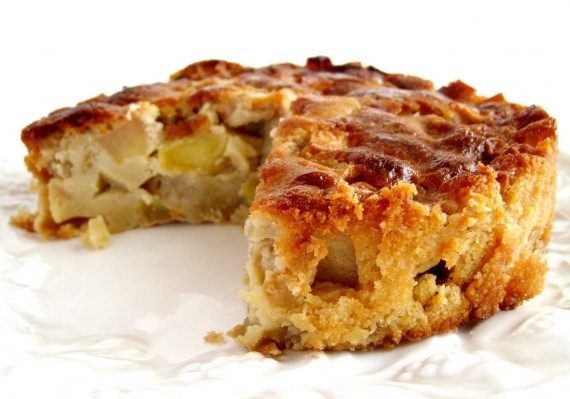 Ingredients
¾ cup all-purpose flour
¾ teaspoon baking powder
¼ tsp. salt
6 cups apples (Fuji, Golden Delicious, Gala, or Pippin)
2 large eggs, at room temperature
¾ cup sugar
3 tablespoons dark rum
½ teaspoon pure vanilla extract
¼ tsp. ground cardamom
¾ tsp. finely grated lemon zest
½ cup unsalted butter, melted and cooled

Happy baking!