A delightful Gluten Free Apple Cake that's packed full of apples.
And with its rich, gooey caramel apple topping, this is a cake that feeds the soul as well as the body.
The cake itself is deliciously moist thanks to coconut oil and almond milk. A mix of gluten free flour and almond flour gives the cake a lovely dense texture. What's a little unusual about this upside-down cake recipe is that there is apple in the cake as well in the luscious fruity caramel topping.
Not only is this Apple Cake recipe gluten free, it's also vegan and sugar free.
The vegan, gluten free cake queen, Tabatha at Kitchen to Nirvana shares this great Gluten Fee Apple Cake recipe.
Looking for more fruity gluten free cakes? This banana cake with brown butter and caramel sauce recipe should help you out.

Gluten Free Apple Cake Recipe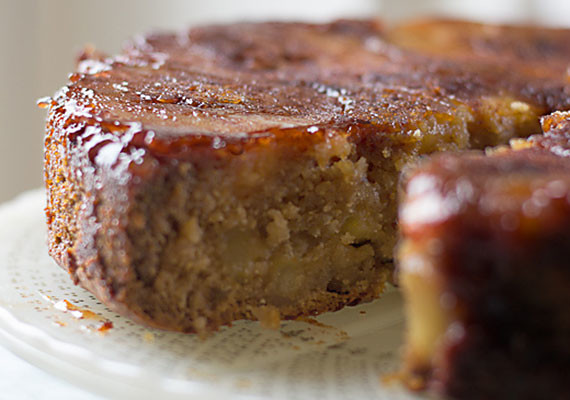 Ingredients
For the caramel sauce:
¾ cup earth balance or non-dairy butter spread (melted)
1 tablespoon cinnamon
1 tablespoon vanilla
½ cup agave
For the cake:
1½ cups Bob's Red Mill Gluten-Free All Purpose Baking Flour
1½ cups almond flour
2 teaspoons baking powder
2 teaspoons baking soda
1 teaspoon xanthan gum
1 teaspoon salt
1 tablespoon cinnamon
½ cup coconut oil plus 1 tablespoon (melted) plus more to grease the pan (unmelted)
¾ cup plus 2 tablespoons agave
1 cup plus 2 tablespoons soy milk or almond milk
2 tablespoons vanilla
1½ cups chopped fuji apples (peeled)
7-8 round fuji apple slices (cored and peeled)