As you've probably worked out by now, The Answer is Cake is about – well – cake. But occasionally I find a recipe that is cake, but something else as well. This gorgeous self-saucing Caramel Pudding Cake recipe fits that description.
Yes they're pudding, but they're also cake. Most importantly though, they're incredibly delicious.
On that basis, they're more than welcome here as we celebrate all things cake.
There are so many flavors in this Caramel Pudding Cake recipe that work brilliantly well together. Walnut and caramel are a match made in heaven. The sweetness of the caramel is balanced by the nutty earthiness of the walnuts.
The browned butter acts a bit like a flavor medium between the caramel and walnut. Browned butter has a nutty mellowness like walnuts but also a richness and slight sweetness like caramel.
What I also like with this recipe is that you make your own walnut meal in the food processor so that the cake has an overall subtle walnut flavor as opposed to chunks of walnut studded throughout. Much more satisfying on a flavor front.
A nutty cake atop of a rich caramel sauce that magically forms while the cakes bake – perfection! Add sliced fresh figs to finish and these puddings have my name all over them.
The other thing I love about this recipe is the story of trial and error that Tara at Seven Spoons went through before she perfected her recipe. But perfect it she did, and for that Tara, we are eternally grateful.
The baking genius Tara at Seven Spoons shares her divine Caramel Pudding Cake recipe.
For another delicious pudding cake, have a look at this Hot Fudge Pudding Cake. Prepare to swoon…

Caramel Pudding Cake Recipe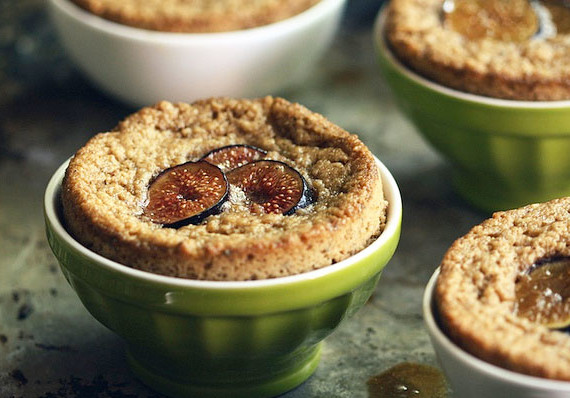 Ingredients
For the caramel syrup:
½ cup brown sugar, lightly packed
2 tablespoons unsalted butter
1 cup water
⅛ teaspoon kosher salt
For the cake:
6 tablespoons unsalted butter
1 cup all-purpose flour
1 teaspoon baking powder
¼ teaspoon kosher salt
4 ounces walnuts, toasted and ground into meal with a food processor
2 eggs, lightly beaten
½ cup brown sugar, lightly packed
¼ cup milk
Seeds scraped from one vanilla bean
4-6 small fresh figs, sliced (optional)