An Eggless Banana Cake that's just packed full of beautiful bananas.

There are a whooping four bananas in this recipe. As you would expect, that many bananas gives the cake a very distinct banana flavour as well as a fabulous, moist texture.
I like this cake because it's easy to make – and even easier to eat, this cake is all about the bananas – pure and simple.
In these types of eggless cake recipes you often see apple sauce used for texture and flavour, and you can usually taste a hint of it in the finished cake (not that that's a bad thing). But not this cake – there's no apple sauce here.
There's not much more to this recipe than bananas, sugar and flour. There's a little oil too which also helps out the luscious texture, plus baking soda to lighten the cake a touch.
Butter and dairy free, it's also suitable for vegans and those with lactose issues. A pretty friendly banana cake recipe all round.
This recipe is shared by the very talented Mono Nicole.

Eggless Banana Cake Recipe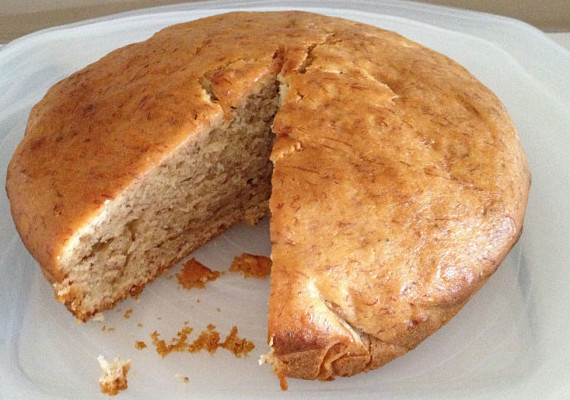 Ingredients
2 cups of flour
1½ teaspoon of baking soda
½ teaspoon of salt
1 cup of sugar
¼ cup of oil
4 mashed bananas
¼ cup of water
1 teaspoon of vanilla