A deliciously light and spongy Egg Free Chocolate Cake recipe.
I've become a bit of a collector of egg-free baking recipes of late in a quest to help out a friend with allergies. I've been really impressed by the quality of egg-free cake recipes around these days. A little while ago I would have been more than skeptical, but not now. Most of the time you would never know the cake was made without eggs.
And especially not when that eggless chocolate cake is as airy, soft and delicious as these little gems.
The oil and yoghurt give a lovey moistness to these cakes. Heed the recipe's advice and make sure you mix gently for a light, spongy texture – be careful not to over mix or you'll compromise the texture.

The drizzle of icing here is simply nutella thinned with a little milk – perfect.

Another egg-free recipe winner (note that this recipe is for two mini cakes such as a mini bundts. Double the recipe for a larger pan).

The very clever Sanjeeta at Lite Bite shares her easy Egg Free Chocolate Cake recipe.

If you're looking for other recipes like this, have you seen this Eggless Sponge Cake or this Eggless Banana Cake …


Egg-free Chocolate Cake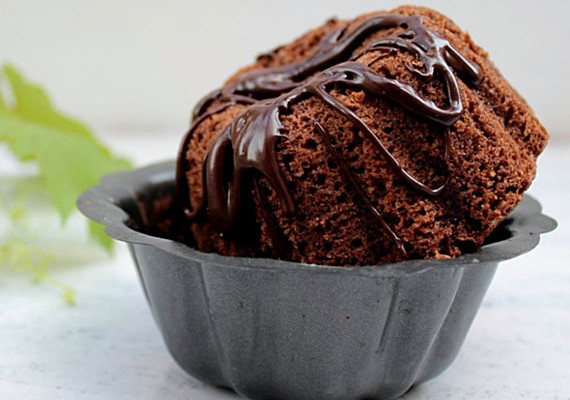 Ingredients
1 cup All purpose flour
1 cup white sugar
¼ cup cocoa powder
¼cup Vegetable oil
½ cup yogurt/curd
½ cup plain water
½ tsp. vanilla essence
½ tsp. baking powder
¼ tsp. baking soda
A pinch of salt