This Sacher Torte recipe makes an easy, yet impressive chocolate cake with a touch of sophistication.
If you're new to Sacher Torte, you have a real treat in store.
Sacher is a style of chocolate cake that originated in Vienna, Austria and remains one of the country's gourmet specialties.
What is Sacher Torte? Basically Sacher Torte is chocolate cake with apricot jam and a chocolate ganache or icing. Some Sacher Tortes are double layered cakes, others more simple single layer cakes (like this one).
In this Sacher Torte recipe, the top of the chocolate cake is brushed with apricot jam and then smothered in a gorgeous, glossy, dark chocolate ganache.
Make sure you use a good quality apricot jam. You want plenty of sweet fruit flavor to complement the bittersweet chocolate.
This Sacher Torte Recipe is shared by the very talented Taste Your Life.
Scroll down the page for the recipe in English.

Sacher Torte Recipe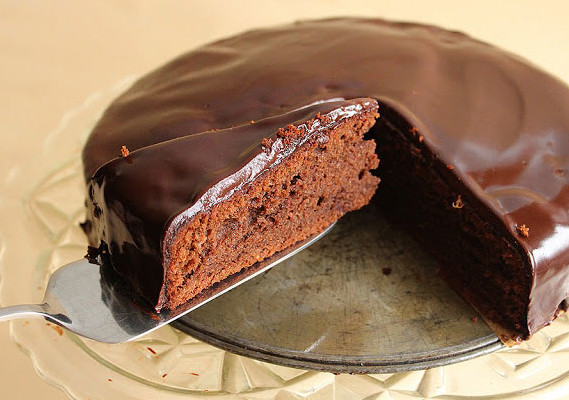 Ingredients
For the Cake:
140 g dark chocolate
140 g softened butter
115 g caster sugar
½ tsp vanilla flavor
5 eggs
85 g almond flour
55 g all purpose flour
3 tbsp apricot jam
For the Ganache:
140 g dark chocolate
200 ml double cream