Utterly delicious and very spectacular Cranberry Upside-down Cake. This is another upside-down cake star.

The intensity of the luscious cranberry topping is balanced perfectly by the lightness of the vanilla cake underneath.
This cake screams festive and would look gorgeous as part of a Thanksgiving or Christmas table. Plus it's super-easy to make and you can do it all in advance, saving yourself some holiday stress. But then again, why wait for the holidays?
Did you know that cranberries are also known as "bounce berries" because they bounce when ripe?
I've only ever used frozen cranberries for this cake and they work perfectly. Turns out that only 5% of all cranberries grown are sold as fresh berries. The remaining 95% are turning into cranberry products including cranberry juice and cranberry sauce.
Because freezing doesn't compromise cranberries at all, they are perfect for use in baking. They also retain all of their natural nutritional benefits like oodles of vitamin C – so this cake is good for you too (well "goodish" for you perhaps).
For an adults version of this Cranberry Upside-down Cake, I have been known to add a splash of orange liqueur to the cranberry topping (just decrease the orange juice quantity accordingly). This is another upside-down cake star.
This splendid Cranberry Upside-down Cake is baked with love by The Italian Dish.

Cranberry Upside-down Cake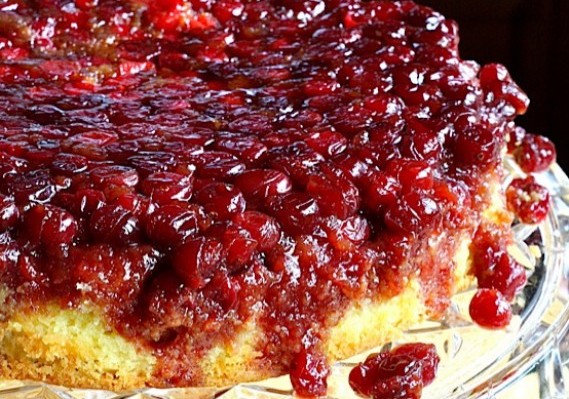 Ingredients
For the Cranberry Topping:
4 tablespoons (1/2 stick) unsalted butter
¾ cup brown sugar, packed
2¾ cup fresh cranberries
¼ cup orange juice
For the Cake:
1½ cups all purpose flour
2 teaspoons baking powder
¼ teaspoon salt
¼ pound (1 stick) unsalted butter, room temperature
1 cup granulated sugar
1 teaspoon vanilla extract
2 eggs, separated
½ cup whole milk
¼ teaspoon cream of tartar

Want more spectacular and delicious upside-down cake recipes? Be inspired by our Upside-down Cake Recipe Collection.

Happy baking!