Lush and delicious, this Zucchini Chocolate Cake recipe is a winner.

Made with two zucchinis and apple sauce the cake is extremely moist. And with cocoa, chocolate chips and a chocolate glaze that's beyond delicious, you get a serious chocolate hit. Plus a serve of vitamins too.
Zucchini in cake is fantastic, but if you haven't tried a zucchini chocolate cake before this is a great recipe to start with.
The zucchini gives the cake an unbeatable moistness but you cannot taste any vegetable in the cake whatsoever. And aren't we always being told to eat more vegetables?
This is a really simple cake to make and the fabulous chocolate glaze is even easier to make in the microwave.
One slice is never enough and everyone will be begging for more – how often can you say that about zucchinis?
If you like the idea of this Zucchini Chocolate Cake, you might like to have a look at this awesome Beetroot Chocolate Cake too.
This great Zucchini Chocolate Cake is baked by the very talented Mom On Time Out.

Zucchini Chocolate Cake Recipe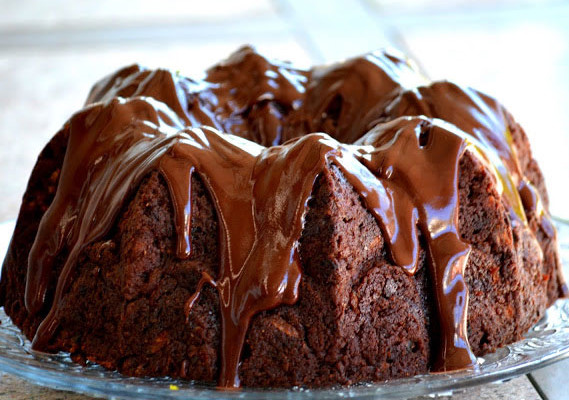 Ingredients
For the Zucchini Chocolate Cake:
2 medium zucchinis
7 Tbls cocoa powder
2 Tbls butter, softened
3 eggs
2 c sugar
1½ c applesauce
1 Tbls vanilla extract
1½ all purpose flour
½ c wheat flour
1 tsp baking soda
1 tsp salt
1 tsp ground cinnamon
1 c semi-sweet mini chocolate chips
For the Glaze:
¾ cup semisweet chocolate chips
3 tablespoons butter
1 tablespoon light corn syrup
¼ teaspoon vanilla extract