This recipe for coconut cake could be just the ticket if you're looking for a richly flavoured coconut layer cake. With chocolate ganache and raspberries this is a coconutty delight with a difference.
The coconut flavour of the cake comes from coconut oil, coconut milk and coconut essence.
This gives the cake's flavour depth, roundness and subtlety which is more difficult to achieve using dried coconut or extract/essence alone.
The multi-layered moist coconut cake, is then surrounded by a cloud of dark chocolate ganache and topped with fresh raspberries. As well as adding a splash of colour, the raspberries lend a freshness and sweetness that off-sets the chocolate frosting and compliments the coconut flavour of the cake.
A very well balanced coconut cake recipe.
This Coconut Layer Cake with Chocolate and Raspberries is baked with love by Desserts for Breakfast.
Are you looking for an amazing chocolate cake recipe? The Answer Is Cake's 10 Best Chocolate Cakes will make you swoon. Take a look and prepare to be inspired.

Recipe for Coconut Cake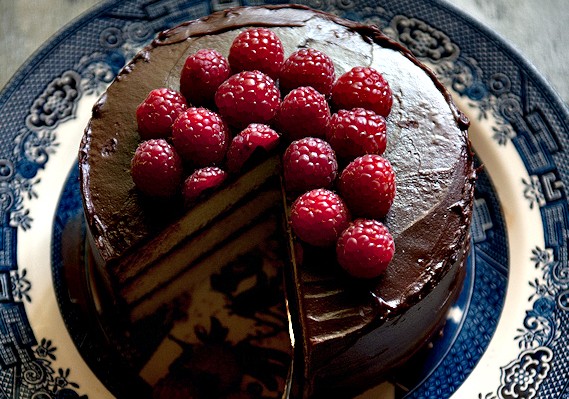 Ingredients
For the Coconut Cake:
179 g (1¼ cup + 2 Tbspn) all-purpose flour
1 tspn baking powder
¼ tspn salt
57 g (¼ cup) unsalted butter, at room temperature
53 g (¼ cup) virgin coconut oil, at room temperature
200 g (1 cup) sugar
2 large eggs, at room temperature
1 tspn coconut extract
142 g (½ cup + 2 Tbspn) whole milk
29 g (2 Tbspn) coconut milk
For the dark chocolate ganache:
350 g (1¾ cups) sugar
345 g (1½ cups) heavy cream
213 g (7.5 oz) unsweetened chocolate, finely chopped
170 g (12 Tbspn) unsalted butter, cut into small pieces
1½ tspn vanilla extract
fresh raspberries

Happy Baking!