The reigning monarch of all upside-down cake recipes, this Plum Upside-down Cake is simply sensational.
What's not to love about this cake?
First… look at it. The colours are absolutely sensational. The intensity of that crimson red from the plums is insane.
Then… think about it – plum and ginger are a match made in heaven, yet so rarely seen together. If you've not tried this particular flavour combination you really should seek it out.
And finally… taste it. Succulent plums forming a sweet sticky topping for a warm and comforting ginger spiced cake. Heavenly.
As you know, I adore upside-down cake recipes (in that slightly obsessed way of mine) and this upside-down cake with plums has stolen my heart.
The fabulous Pastry Studio brings you this simply amazing Plum Upside-down Cake.
If you're a fan of upside-down cake recipes like I am, you'll probably appreciate these little apple upside-down cakes.

Plum Upside-Down Cake Recipe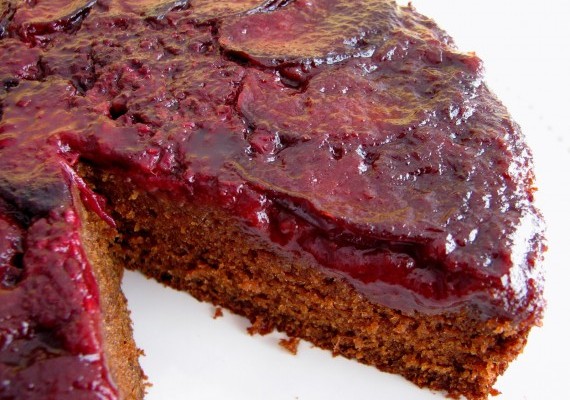 Ingredients
For the Topping:
3 T unsalted butter at room temperature
½ C light brown sugar
1½ t ground cinnamon
4-5 medium to large ripe plums
For the Cake:
4 oz unsalted butter at room temperature
¼ C + 2 T light brown sugar
1 T peeled, grated ginger
1 egg + 1 yolk
⅓ C molasses
1½ C flour
¾ t baking powder
¾ t baking soda
¼ t salt
¾ C buttermilk