This is a great Chocolate Amaretto Cake Recipe.

It's really a chocolate pound cake jazzed up with a generous splash of Amaretto. The Amaretto lends the cake a sweet, deep, rich flavour.

If you don't fancy Amaretto, substitute with any sweet liqueur that compliments chocolate (Grand Marnier is mentioned in the recipe, or you could try anything from an Irish cream to brandy or whisky).

Or you could leave out the alcohol entirely and simply replace it with additional milk and a touch more vanilla (or almond) extract.
This cake is actually really easy to make but looks pretty fabulous thanks to the decoration of drizzled melted white and dark chocolate and a sprinkling of almond flakes.
This is another example of a basic cake recipe that has a few tweaks and adjustments, and is transformed into something very impressive indeed.
This lovely Chocolate Amaretto Cake is from the kitchen of Life's A Feast.
And here's another great liqueur cake: Irish Cream Cake.

Chocolate Amaretto Cake Recipe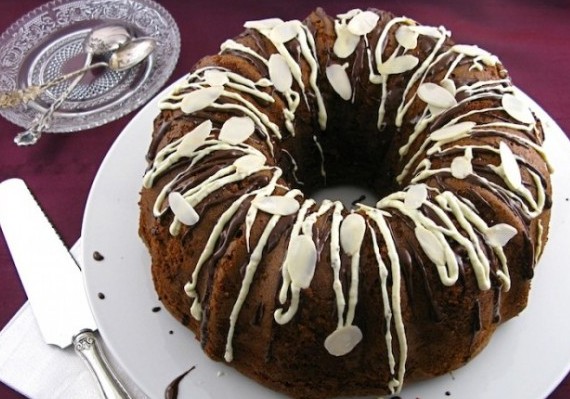 Ingredients
6 oz (168 g) bittersweet chocolate, chopped
2 ½ cups (300 g) flour
2 tsps baking powder
½ tsp salt
1 cup (225 g) unsalted butter, softened to room temperature
¾ cup (150 g) granulated sugar
¾ cup (170 g) firmly packed brown sugar
4 large eggs at room temperature
2 Tbs Amaretto
1 tsp vanilla
¾ cup (175 ml) milk

Happy baking!