Galette des Rois has to be one of my favorite things to eat in the whole entire world so I was very excited to come across this French King Cake recipe.
Traditionally Galette des Rois, or French King Cake, is eaten during the feast of the Epiphany (from January 5 each year).
And it was indeed in early January one year that I first discovered Galette des Rois in my local French bakery. My healthy New Year resolutions were out the window pretty quickly. One slice and I was absolutely hooked by the buttery, flakey, golden puff pastry and rich almond frangipane filling.
Imagine my devastation when I found out this pastry cake treat wouldn't be available again for a whole 12 months. Clearly that just wouldn't do, so a recipe search was initiated.
This recipe for Galette des Rois uses pre-made puff pastry so it's very easy to make. The almond frangipane filling is made in your food processor so it's quick and easy too. Frangipane is basically butter, sugar, eggs and almonds (ground and slivered).
Traditionally, there is a little charm or feve hidden in the cake and whoever gets this in their slice of cake, gets to be king – or queen – for the day. Paris Almonds make for very good, edible feves, otherwise you can buy porcelain charms specifically for this purpose.
French King Cake really is unbelievably good especially for such little effort. However, if you want to eat King Cake all year around like I do, you'll really have to make your own. But it's well worth it. I find this cake is a huge hit when served with a glass of champagne for dessert or a sophisticated afternoon tea. So very French. So very delicious. So very easy.
The King of King Cake recipes, Zen Can Cook shares this Galette des Rois recipe.

French King Cake Recipe - Galette des Rois recipe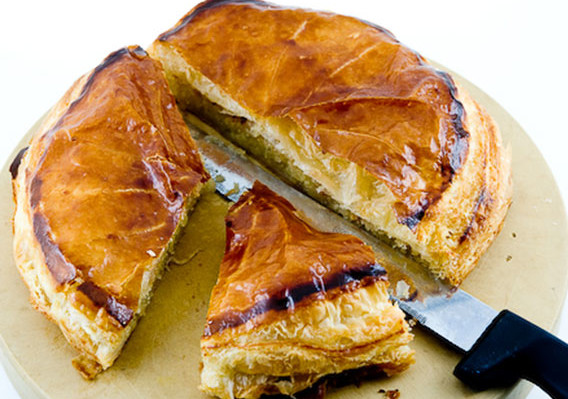 Ingredients
1 puff pastry sheet
8 tablespoons soft butter
¾ cup slivered almonds, toasted and ground
¼ cup slivered almonds, toasted and coarsely chopped
2 eggs
3 tablespoons flour
½ cup sugar + 2 tablespoons
1 pinch of salt
1 teaspoon almond extract (optional)
1 egg yolk + 1 tablespoon milk for eggwash
Powdered sugar for glazing