A divinely rich chocolate cake with cherry.
This chocolate pound cake highlights why chocolate is so often paired with cherry. It has a silky, smooth, dense texture and is spiked with sweet, juicy cherries.
For swoon inducing flavours, try and make this cake at least a day ahead. The extra time means that the flavours and textures intensify even further making every bite of this cake pure heaven.
The Mascarpone Whipped Cream is a perfect accompaniment, with or without the cherry liqueur kirsch.
A note on kirsch. Kirsch is made by fermenting whole cherries, including their stones. Unlike cherry liqueurs and so-called "cherry brandies," kirsch is not sweet but rather has a refined taste with subtle flavors of cherry and a slight bitter-almond taste that derives from the stones.
This indulgent Chocolate Cake with Cherry recipe is from the very talented Life's A Feast.
More chocolate cake with cherries? Take a look at this intense chocolate cherry cake. It's simply amazing, as are the rest of the cakes in the Cherry Cake Collection.

Chocolate Cake with Cherry Recipe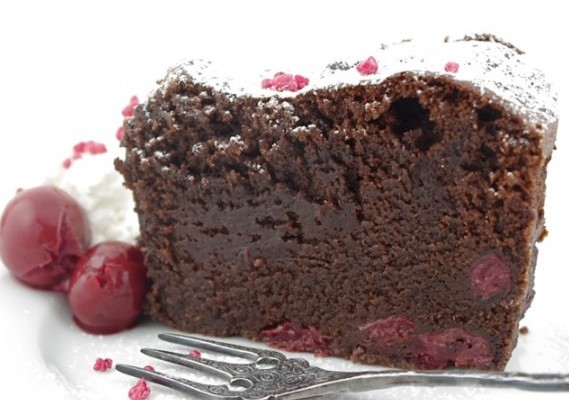 Ingredients
For the cake:
1 cup unsweetened cocoa powder
2 cups flour
½ tsp baking powder
1 tsp salt
2 Tbs instant espresso powder
3 sticks (1 ½ cups, 345 g) unsalted butter, softened to room temperature
3 cups sugar
5 large eggs
1 cup milk
¼ cup kirsch, juice from jarred cherries or coffee (for a coffee-chocolate version)
1 tsp vanilla
1 cup drained jarred cherries, if desired, and extra for serving
For the Mascarpone Whipped Cream:
1 cup (250 ml) heavy whipping cream
1 tsp vanilla
1 – 2 Tbs kirsch to taste, optional
1 – 2 Tbs confectioner's/powdered sugar, to taste
2 Tbs mascarpone, softened to room temperature

Are you looking for more utterly amazing chocolate cake recipes like this one? The Answer Is Cake's Chocolate Cake Recipe Collection will make you swoon. Take a look and prepared to be inspired.