Tunnel of Fudge Cake – without nuts, to satisfy the chocolate addicts in your life.
Tunnel of fudge or tunnel of love I ask you?
When you want an extremely impressive chocolate cake without much fuss, a Tunnel of Fudge Cake is a winner. The cake looks like a normal chocolate bundt cake on the outside, but when you slice it, that magic ribbon of gooey-fudgey deliciousness is revealed.
The best thing is, you don't actually have to "do" anything to get the tunnel of fudge to appear. It's like molten lava cakes, where the tunnel of slightly under-baked cake mixture takes on the texture and taste of soft, melted chocolate fudge.
This Tunnel of Fudge Bundt Cake recipe includes a genius trick for preparing your cake pan to ensure that none of your bundt cakes ever stick to the pan again.
This magical Tunnel of Fudge Cake is baked with love by Lemon Sugar.
For more swoon-worthy chocolate cakes, take a look at these recipes for chocolate cake you'll love.

Tunnel of Fudge Cake Recipe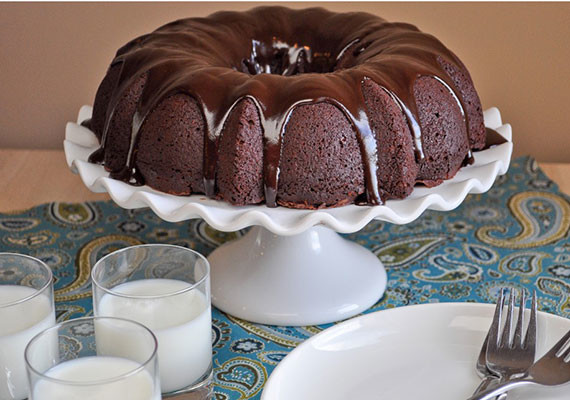 Ingredients
To prepare the bundt pan:
2 tablespoons Dutch-processed cocoa powder
2 tablespoons unsalted butter, melted
For the Cake:
½ cup boiling water
2 ounces semi-sweet chocolate, chopped
2 cups (10 ounces) all-purpose flour
¾ cup (2 and ¼ ounces) Dutch-processed cocoa powder
2 cups (8 ounces) confectioners sugar
1 teaspoon salt
5 large eggs at room temperature
1 tablespoon vanilla extract
1 cup (7 ounces) granulated sugar
¾ cup packed (5 and ¼ ounces) brown sugar
20 tablespoons (2 and ½ sticks) unsalted butter at room temperature
For the Glaze:
¾ cup heavy cream
¼ cup light corn syrup
8 ounces semi-sweet chocolate, finely chopped
½ teaspoon vanilla extract