In this Chocolate Souffle Cake recipe a crispy shell surrounds a heart of fudgey, luscious, chocolatey deliciousness.
You're supposed to wait until this cake cools before you eat it – good luck with that!
And don't be put off by the  "souffle" aspect. It simply comes down to folding in egg whites – not hard at all. Give it a try!
The chocolate cake genius behind this heavenly Chocolate Soufflé Cake is The Galley Gourmet.

Chocolate Souffle Cake Recipe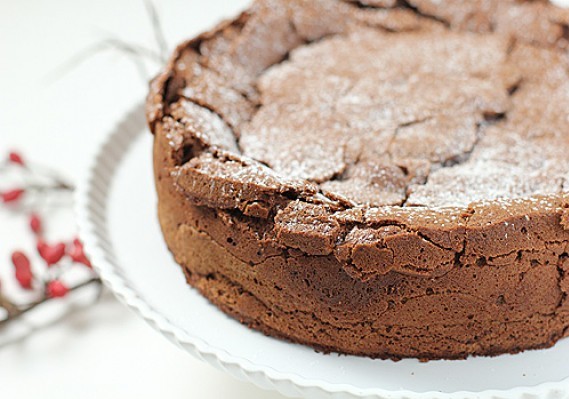 Ingredients
12 oz good-quality semisweet chocolate, chopped
1½ sticks (6 oz) unsalted butter, cut into pieces
1½ teaspoons pure vanilla extract
½ teaspoon espresso powder
¼ teaspoon kosher salt + a pinch
¾ cup granulated sugar, divided
5 extra large eggs, separated and at room temperature
¼ cup unbleached all-purpose flour

Happy baking!