This fantastic Cherry Chocolate Cake recipe is the classic combination of chocolate cake and juicy cherries, all surrounded by a cloud of Italian Meringue Buttercream Frosting.
Talk about decadence.
The cake is just chocolatey enough to balance, but not overpower, the fresh cherry filling. That's important because you want to be able to taste and enjoy both flavors.
Add in the gorgeous Italian meringue buttercream that is flavored with kirsch and vanilla, and this is a Cherry Chocolate Cake to be remembered.
This divine Cherry Chocolate Cake is brought to you by Completely Delicious. Completely Delicious indeed.
If you're looking for more recipes for chocolate cake have you seen this great list? Some of the best chocolate cakes you'll find. Or if it's the cherries that have caught your eye, we've got a great Cherry Cake Recipe Collection for you.

Cherry Chocolate Cake Recipe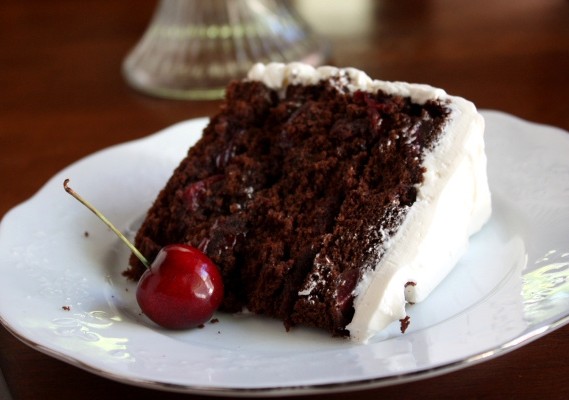 Ingredients
For the Cake:
1 cup unsweetened cocoa powder, not dutch processed
1¼ cup hot water
3 cups packed light brown sugar
2⅔ cup cake flour
1½ teaspoons baking soda
¾ teaspoon salt
1 cup plus
2 tablespoons unsalted butter, at room temperature
3 eggs
1½ teaspoons vanilla extract
¾ cup coffee, at room temperature
8 ounces sweet cherries, pitted and sliced into small pieces
For the Cherry Filling
:
1 pound sweet cherries, pitted and halved
½ cup kirsch liquor
⅓ cup sugar
For the Cherry Vanilla Italian Meringue Buttercream
:
1 cup sugar
¼ cup water
4 egg whites
2 cups (1 pound) butter, at room temperature
1 teaspoon vanilla extract
½ tablespoon kirsch liquor