A great recipe for Chocolate Espresso Cake with a glaze that's beyond delicious.
It doesn't get much better than this. Tall, dark, handsome and rich – we are still talking about cake right?
This recipe uses Dutch process cocoa and instant espresso powder (but you could substitute for the real stuff if you're a coffee aficionado). The cocoa and coffee flavours are rounded out beautifully by a touch of vanilla and sour cream. The cream adds to the moistness of the cake too.
So the cake itself is pretty darn good. But wait until you try the glaze. The dark chocolate cinnamon glaze is so good you could drink it. Instead, pour it over the cake and reach new dizzying heights of chocolate cake deliciousness.
The cake is bundt style. Bundt refers to the shape of the cake which is the result of specially shaped tin. You could make it in a regular pan but watch the baking time. The funnel in the centre of bundt cake pans quickens the baking process. A non bundt version will probably take longer to bake.
This Chocolate Espresso Cake with Dark Chocolate Cinnamon Glaze is brought to you by the ever delightful Sweetapolita.

Chocolate Espresso Cake Recipe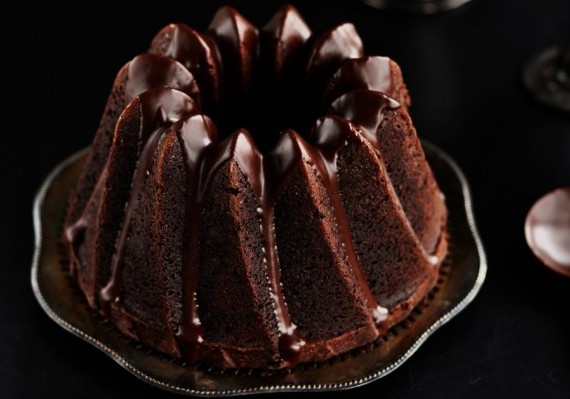 Ingredients
For the Chocolate Espresso Cake:
8 oz butter (2 sticks/1 cup)
½ cup high quality Dutch process cocoa
1 tablespoon instant espresso powder dissolved into ¾ cup water
2 cups granulated sugar
1 cup sour cream
1 tablespoon vanilla extract
2 large eggs
2 cups all-purpose flour
1 teaspoon baking soda
½ teaspoon salt
For the Dark Chocolate Cinnamon Glaze:
4 oz high quality bittersweet chocolate, coarsely chopped
⅓ cup unsalted butter, softened and cut into ½ pieces
1½ teaspoons light corn syrup
½ teaspoon ground cinnamon