A Morello Cherry Cake recipe with a difference. What looks like a fairly simple cherry cake, is actually bursting with hidden flavors and textures.
Morello cherries are perfect for this style of cake, with their deeply colored dark red flesh and skin. Plus you can keep a jar in the cupboard, ready to go whenever you need it.
There's a certain integrity to cakes like this. The ground almonds give the cake a good structure, plus a rich base flavor and texture to build on. Add in a little Greek yogurt for moistness and cinnamon for spice.
Against this cake background, the Morello cherries shine. As well as the cherries themselves, a generous amount of the syrup from the cherries is added, strengthening the cherry flavor throughout the cake. A little cherry liqueur (kirsch) wouldn't go astray here either if you fancied it – just a splash (and remember to reduce the cherry syrup by the same amount).
A dust of icing sugar to finish and you're done.
This surprisingly simple but delicious Morello Cherry Cake recipe is shared by Paola from Italy on My Mind.
If you like this recipe, you might also enjoy this Blueberry Tea Cake recipe. Again, it's a deceptively simple looking cake that's packed full of unexpected flavors.

Morello Cherry Cake Recipe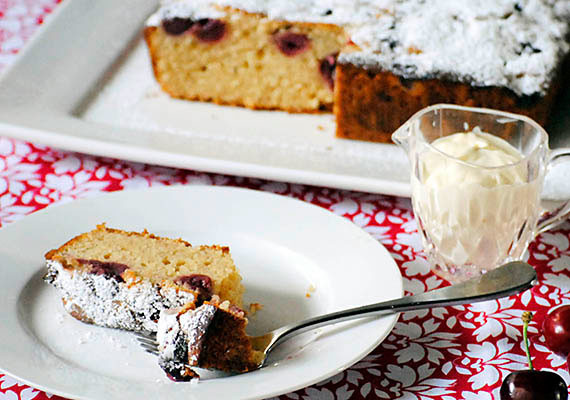 Ingredients
200g unsalted butter, at room temperature
200g caster sugar
3 eggs
175g self-raising flour
1 teaspoon cinnamon, ground
140g almonds, ground
680g Morello cherries, drained
⅓ cup cherry syrup (from the jar of cherries)
⅔ cup Greek yoghurt