This sublime banana coconut cake recipe is proof that some cakes are love at first sight and you just know it was meant to be.

The cake is light and fluffy, and balanced by layers of airy whipped cream chocolate frosting, then smothered in rich dark chocolate ganache. And there's coconut too – in the cake and as decoration.
Honestly, this is not the easiest or quickest cake in the world to bake and assemble but it is certainly worth the effort.
The balance is perfect; not one element outshines another, which is pretty impressive given you are dealing with strong flavours like banana, chocolate and coconut.
And it looks so amazingly good too!
The layer cake genius behind this brilliant Banana Coconut Cake is A Spicy Perspective.
How about another banana cake but this time super easy? Check out this light fluffy banana cake.

Banana Coconut Cake Recipe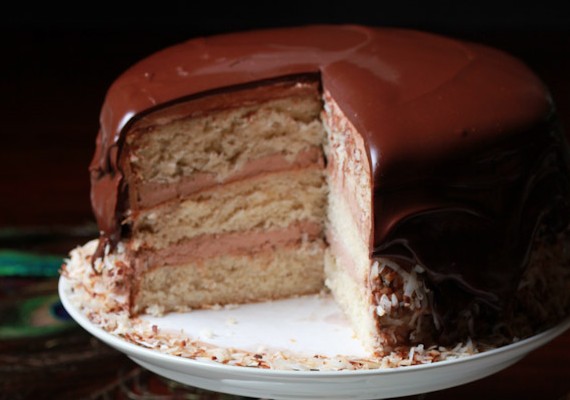 Ingredients
For the Coconut Banana Cake:
3 sticks butter, softened
2 cups granulated sugar
3 cups cake flour
¾ tsp. baking soda
1½ tsp. baking powder
1 tsp. salt
3 large egg whites
1 Tb. vanilla extract
1½ cups full fat buttermilk
2 large ripe bananas, smashed
1 cup shredded coconut
For the Whipped Chocolate Frosting:
3 cups heavy cream
2 Tb. vanilla extract
⅓ cup sugar
⅓ cup unsweetened cocoa powder
For the Chocolate Ganache and Garnish:
10 oz. dark chocolate
1 cup heavy cream
2 Tb. corn syrup
1 cup toasted coconut

Happy baking!